James Michael Sama is a speaker, author, and a widely recognized relationship writer. James needed help to build a personal website to improve his conversions and elevate his online brand. He wanted to work with a team that not only understood his needs as a business owner and coach, but also had a background in marketing. He approached Marketing Access Pass with his initiative to create a custom website that could showcase his brand, experience, and products.
James has great credentials and experience in his industry. We wanted to showcase his social proof of millions of website visitors, and his past featured speaker engagements. We gave him a clean design that was easy to navigate for users who were tuning into his blog content. We integrated email optin forms strategically throughout his site to increase conversions. The website design now showcases James's personal and professional background, blog, and consulting services.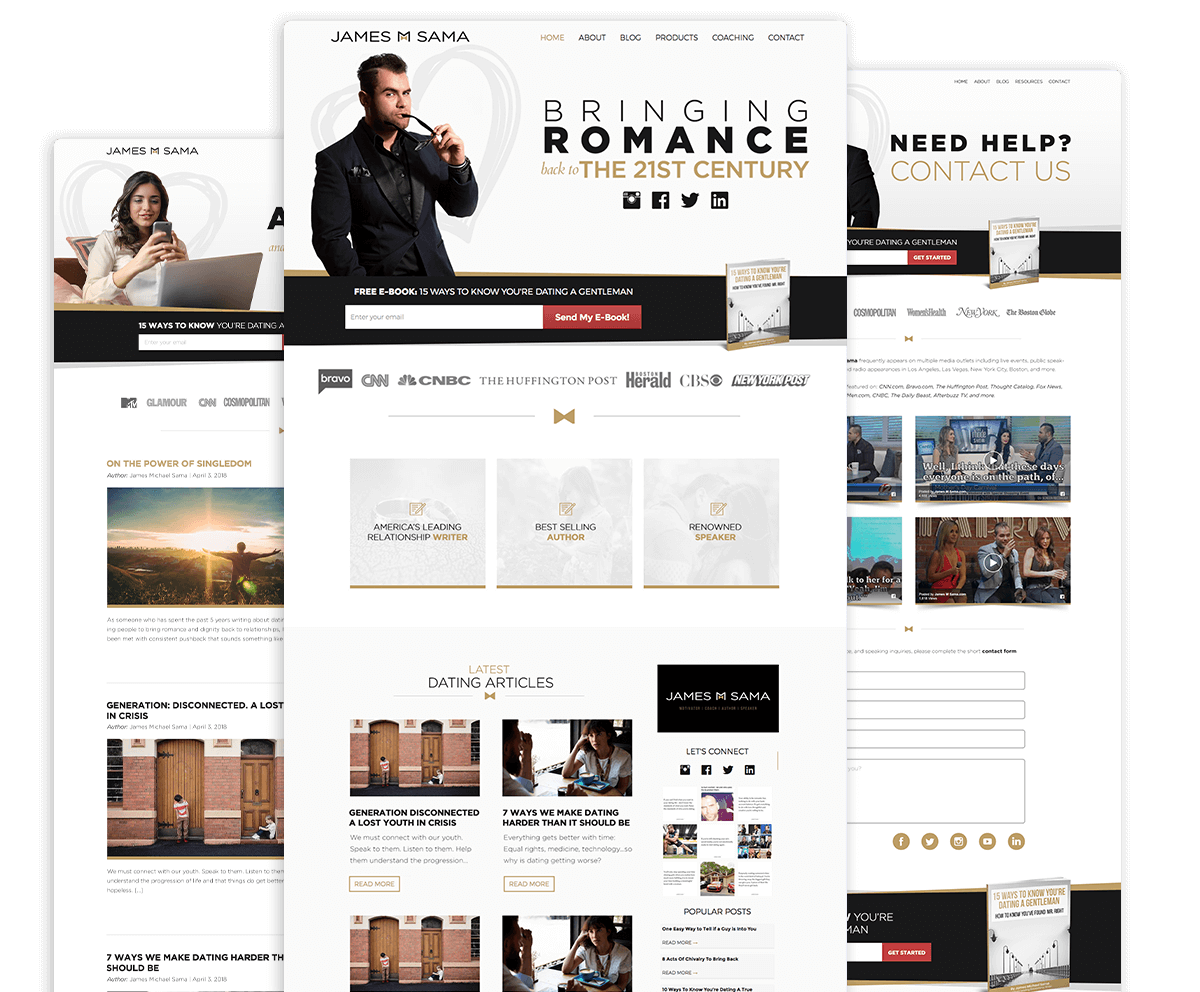 **Please note that photos of website design were taken at date of completion. Current live website may appear different.
"After reviewing a variety of options for my website overhaul, Anthony and his team at Marketing Access Pass provided me with the most comprehensive strategic plan at the best price, and I chose to utilize their services.
The MAP team did extensive research into my specific industry and my competitors, and gave me a variety of reports that outlined suggestions for design elements, functionality, and branding that were all consistent with my business and branding goals. My website is the hub of my online image, with over 37 million people having passed through it over the past 5 years. I can confidently say that for the first time since inception, I am proud of what people see when they visit any page of the site.
The MAP team has created an ecosystem within my website that gives me abilities I never had, nor thought I would have. And, on top of that, I feel that I have a home to send people online that truly personifies myself, my mission, and my personality.
I highly recommend the MAP team to anyone who is looking to create a more impactful presence online for themselves and/or their business, and wants to work with a team who will provide the best results, the best service, and the best pricing." - JAMES M. SAMA

Need a Custom WordPress Website?
Simply Fill Out the Website Project Questionnaire to Get Started!