What Color Is Puce? About Puce Color (Updated 2023)
Are you curious about what color is puce? We will share the answer in this article.
Looking for a new color for your next creative project? If you're the adventurous type who loves to take on new challenges, you might want to check out a color called puce.
Often described as a dark, reddish brown, this pigment comes as one of the most challenging color choices most artists and designers encounter as they go through their creative feats.
Curious to learn why? Here, we have prepared a brief guide that will uncover the distinct qualities of puce and why it remains as controversial as ever.
From its definition and history to its symbolism, here is a rundown of everything you need to know about this extraordinary pigment.
Read on…
What Color is Puce?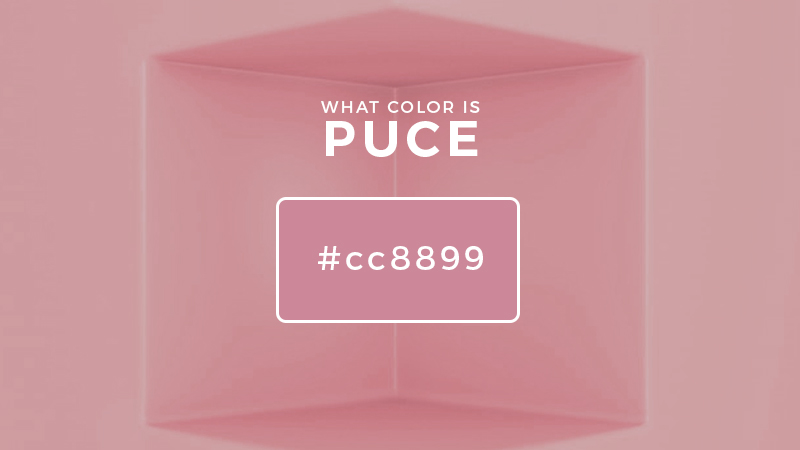 If you were to ask people what color they visualize when they hear the word "puce," there's a high chance that you'll get a list of varying answers.
After all, puce doesn't enjoy the same level of popularity as other colors, such as blue, red, and yellow.
Given this status, it's not surprising that many are unaware of puce's real definition. In fact, only recently, a Marvel comics artist created a poll on Twitter asking people what color they think puce is.
The majority voted for "green," while only 43.4% voted for "red."
https://twitter.com/audkoch/status/937589498724024320
This result, according to an article from Woot.com, is an example of what is known as the "Mandela Effect," which refers to a shared false memory phenomenon.
While puce was originally described as a purplish-brown color, many associates the term with the color green due to a shared misconception.
According to some, this might have stemmed from the presence of the phrase "puce green," which was first used to describe the color of green tea back in the 1800s.
"Wikipedia notes an 1811 medical journal that describes a type of tea as "puce green," but in context, it's clear that the tea being described is green with overtones of puce," the article from Woot explained.
Reviewing the History of the Color Puce
If we trace the origins of the color puce, we will find ourselves going back to the French Queen, Marie Antoinette, who held the color puce as her favorite.
Specifically, as most historians note, the birth of the color started in the summer of 1775, when a dressmaker made Marie Antoinette a gown that incorporated a mixture of the colors brown and maroon, with touches of pinkish-gray.
According to some books, when Louis XVI saw his wife wearing the brand new dress, he exclaimed, "That's a puce!" – referring to the color of a flea.
From then on, the color of dried blood associated with flea bites has taken on the term "puce." Later on, the color was adapted by the bourgeoise, with both men and women wearing it in their taffetas and satins.
However, in just a few months, the color quickly faded from prominence.
According to an article titled "The Sexy-Gross Story of Puce," legend has it that puce's withdrawal from the mainstream was caused by Louis XVI himself, who, on another occasion, saw his wife with a new gray gown and exclaimed, "That dress is the color of your hair!"
Meaning of the Color Puce
To date, although the color puce doesn't enjoy the same popularity it had in the past, the color still carries a range of meanings.
Specifically, since it embodies the color of dried blood caused by flea bites, the pigment has been associated with unpleasant things, such as dirt, tragedies, and even plagues.
However, on its lighter side, since it stood as a fashion color for the French bourgeoise between 1780 and 1790, the color is also used to connote sophistication, elitism, and superiority.
The Bottom Line
Interested in the color puce? Although not as popular as most colors, knowing how to properly utilize this insect-inspired pigment can help you express and establish your desired mood in your next creative project.
Learn more about the distinct charm of this color. Experiment with puce today!

Hi, I'm Anthony Tran! Welcome to my site. I live in Arizona and am obsessed with all things related to building an Online Business and working from home. Learn about my journey here.