5 Best Website Builders for SEO in 2023
As a business owner, you know that SEO is important for driving traffic to your website. But what is the best way to go about optimizing your site?
One option is to use a website builder that has built-in SEO and local SEO features. This can make it easier to create and optimize your site for search engines.
If you don't know exactly what website builder to use you have come to the right place.
In this article, we will list the 5 best website builders for SEO in 2022.
What is a Website Builder?
A website builder is a platform of building tools that can create websites without coding. The goal of these builders is to be able to create a website without hiring an expensive web developer that might take months to develop your site.
What are the Best Website Builders for SEO?
The best website builders for SEO are platforms that let you create a website without needing to code or hire a web developer. This is especially important for local businesses that don't have a budget to hire a designer.
These platforms are easy to use and usually have built-in features that help with search engine optimization (SEO).  
The best part is you don't have to be a tech expert to use website builders. Most of these builders are specifically designed for people with little to no experience in web design or development, but they also have the flexibility to create more complex websites if you want to hire a website developer.
1. WordPress

WordPress is a popular content management system (CMS) that can be used to create a website or blog. While WordPress is not technically a website builder, it does come with a variety of themes and plugins that can be used to create a professional-looking website.
Key Features
An easy way to manage your website content
Unlimited Pages, and Posts
Publishing Tools
User Management
Biggest Community of website builders
Pricing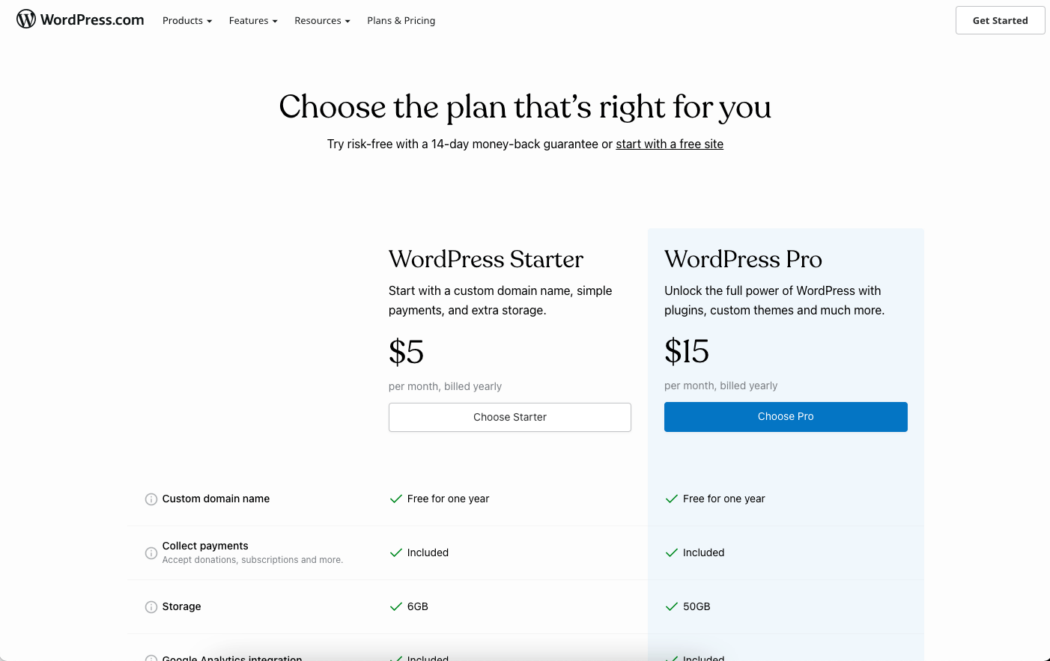 WordPress is free but you will need to purchase hosting which will usually cost you anywhere from $3 dollars to $50 dollars a month depending on what you are looking for in a web hosting platform.
Used For
The platform is used by nearly a third of the world's websites. People from personal bloggers to major corporations use the platform to run their websites. The platform is that flexible.
Cons
No true drag and drop interface
Limited eCommerce features
Expensive add ons
2. Shopify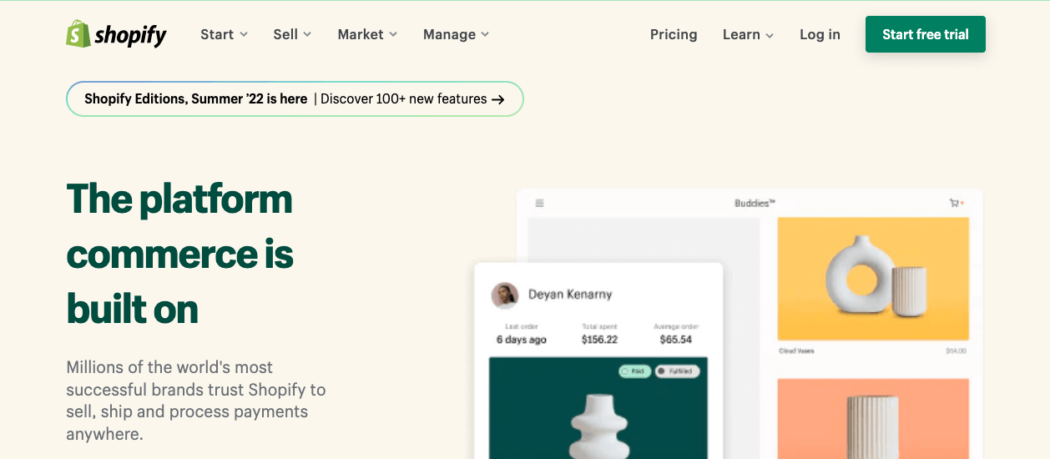 Shopify is considered to be one of the best website builders for SEO. Its platform is search engine friendly and built with SEO best practices in mind. Plus, Shopify comes with a slew of features and plugins that can help you further optime your site for better search engine visibility.
Key Features
Easy-to-use platform
Plenty of themes and plugins to choose from
Excellent for SEO
Amazing customer support
Google Analytics integration
Pricing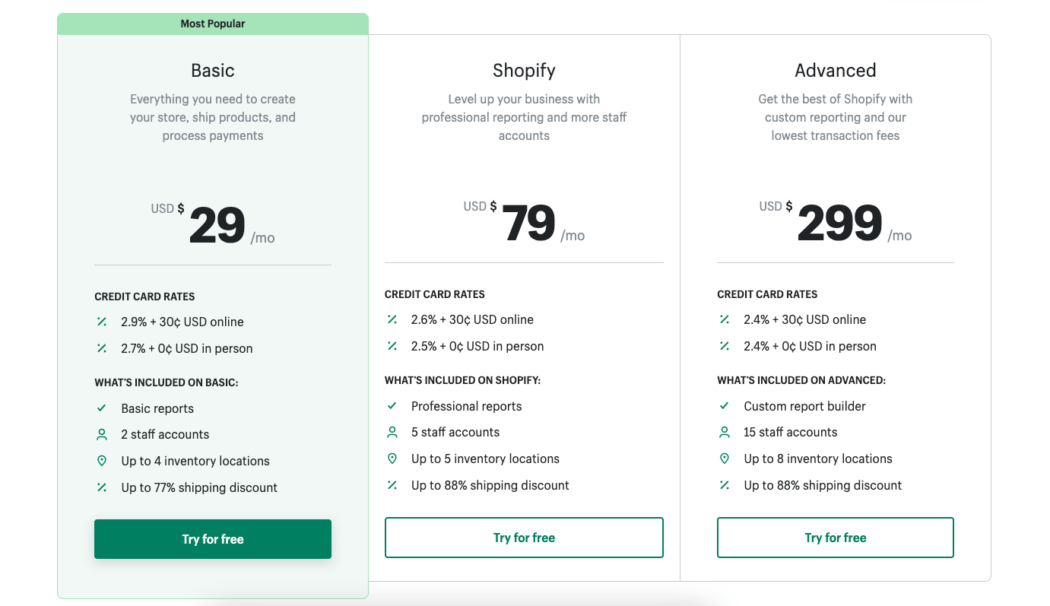 Shopify has four different pricing plans: Basic, Shopify, Advanced Shopify, and Shopify Plus. Basic Shopify is $29 a month, Shopify is $79 a month and Advanced Shopify is $299 a month. If you need an enterprise-grade solution Shopify has Shopify plus which starts at $2000 a month.
Used For
Shopify is used for building an online eCommerce store. If your goal is to build an online store with multiple products this platform is for you.
Cons
Shopify plans can be pricey for some businesses
You need to be comfortable with code if you want to customize your store beyond the basics.
3. Squarespace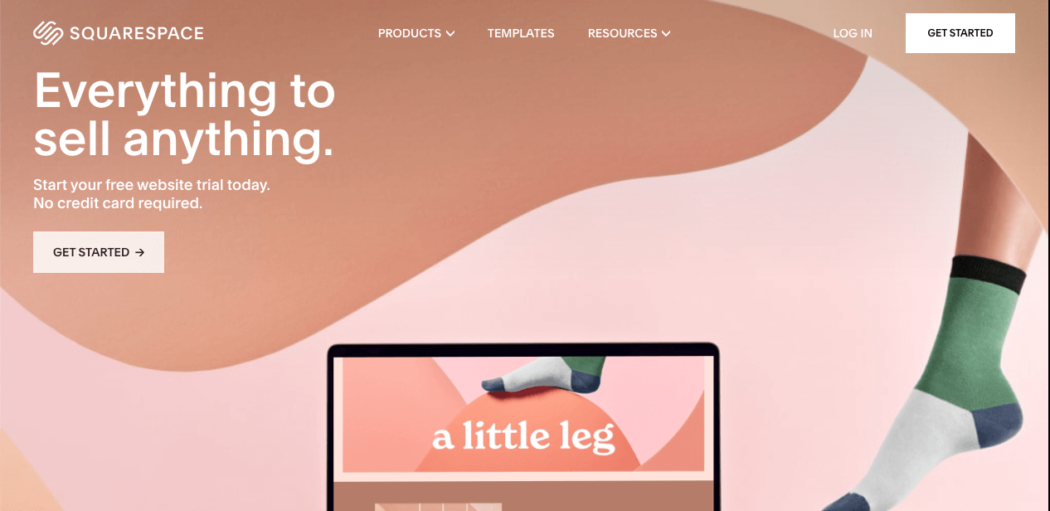 Squarespace is becoming a wilding popular website builder. Users find the platform easy to use and are able to get a website up and running fairly quickly without any technical skills.
Key Features
Drag-and-drop interface. Easily create a website without having to learn to code.
eCommerce Features: If you want to sell products online, Squarespace has everything you need to get started.
Built-in SEO tools: Squarespace comes with built-in tools to help you optimize your site for search engines.
Pricing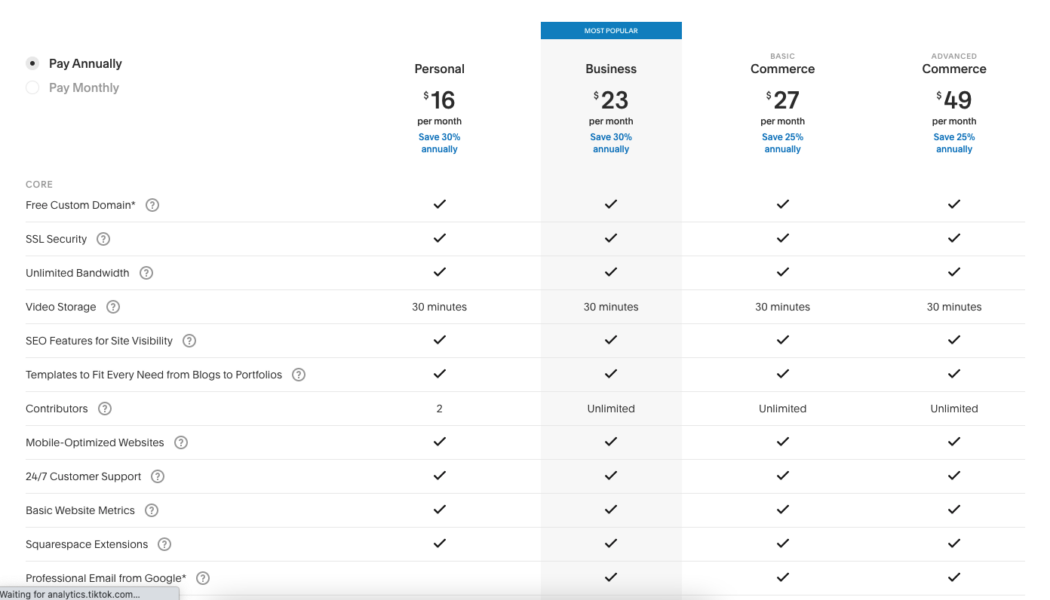 Square space has four plans. Personal, Business basic commerce, and advanced commerce. The personal plan starts at $16 a month the business plan starts at $23 dollars a month, the basic commerce starts at $27 a month and the advanced commerce starts at $49 a month.
Used For
Squarespace is one of the rare platforms that can be used suitable for blogging businesses as well as e-commerce. Squarespace has plans for all your business needs.
Cons
Limited templates and designs: While Squarespace offers a variety of templates and designs, you may not find the perfect one for your business.
Pricing: Squarespace can get expensive if you are just starting out.
4. Wix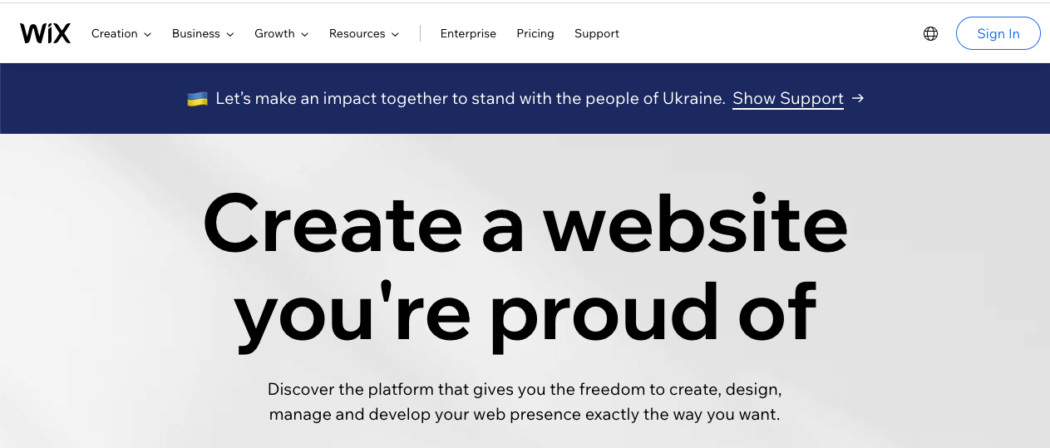 Wix is another popular website builder that small businesses love to use. Wix also has a free plan so you can test out the platform without committing to buying anything.
Key Features
Free plan: Wix provides a free plan that allows users to create a website of up to 500MB
SEO friendly: Wix websites are designed with SEO in mind, giving you the ability to optimize your website for the search engines.
24/7 support: Wix provides 24/7 support to users, making it easy to get help if you have any questions or problems.
Pricing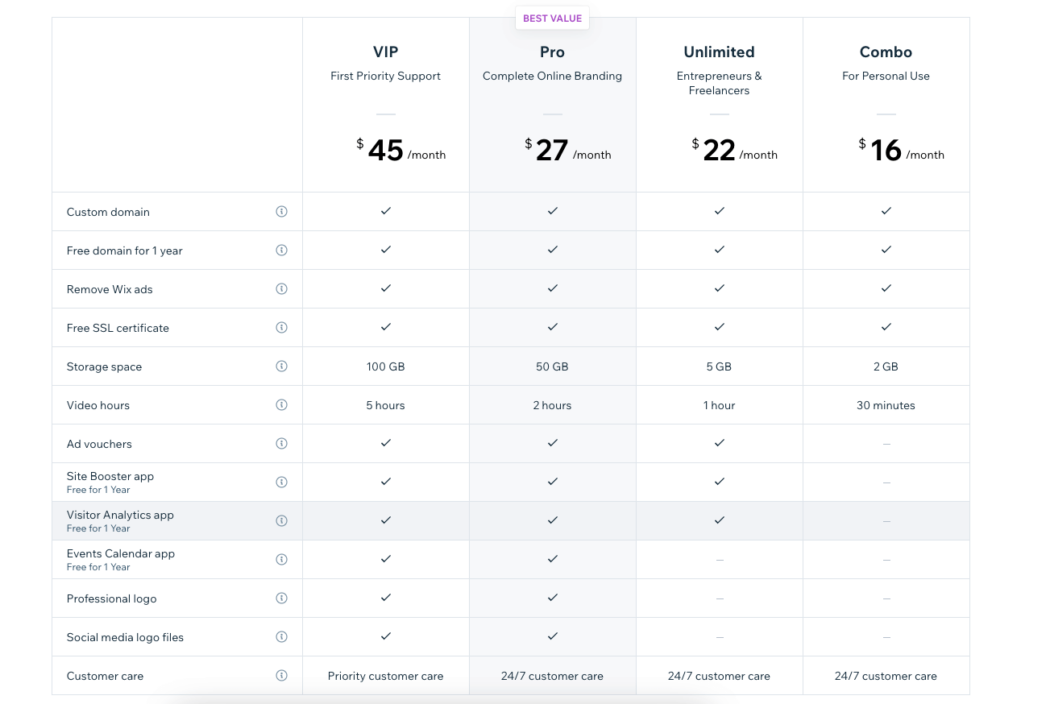 Wix pricing is broken down into three tiers. The first tier is Website plans, then they have Business and eCommerce plans, and then they have an enterprise plan.
The website plan starts out at $16 dollars a month and is called the Combo. The combo plan is recommended for personal use. The Unlimited plan is designed for entrepreneurs and freelancers and that is $22 a month. The pro plan is $27 a month and the VIP plan is $45 a month.
The business and eCommerce plans have three plans. The business basic plan starts at $27 a month, the Business Unlimited plan is $32 a month and the Business VIP costs $59 a month.
The enterprise plan starts at $500 a month.
Used For
Again this is another platform that is suitable for any business whether you are running an eCommerce store or a personal blog or a website for your local business Wix has the solution for you.
Cons
Can be difficult to switch templates later on down the road.
The best features are only available on the expensive plans.
5. Weebly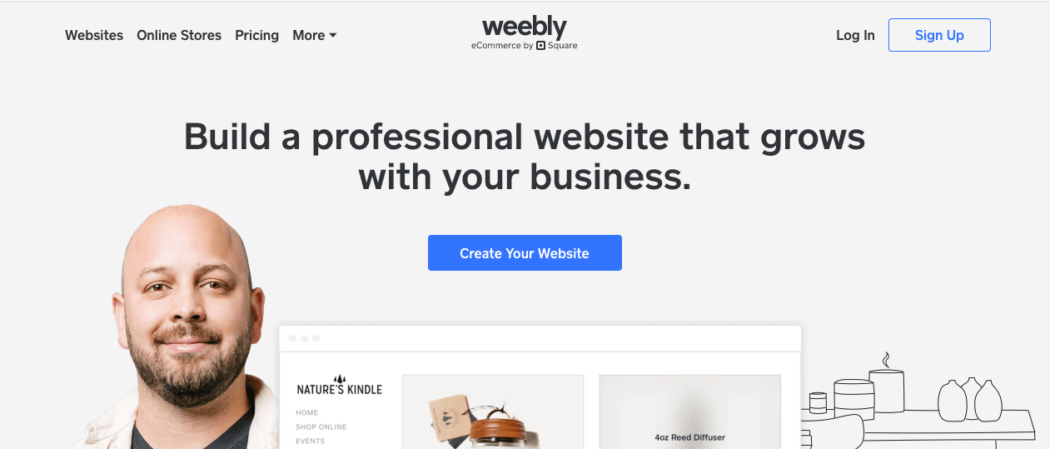 Weebly is another great option for someone that doesn't want to dig into code to create a website. It has powerful features out of the box that will get your website up and running out the box with its drag-and-drop interface.
Key Features
User-friendly editor: Weebly's simple editor is perfect for those who are not familiar with website design. You can easily add content and make changes to your website without having to touch a single line of code.
Drag and drop functionality: With Weebly, you can simply drag and drop elements onto your page to create the layout you want.
eCommerce capabilities: Weebly is a great platform for those who want to create an online store. It offers all the features you need to sell products online, including a shopping cart, product pages, and payment processing.
Pricing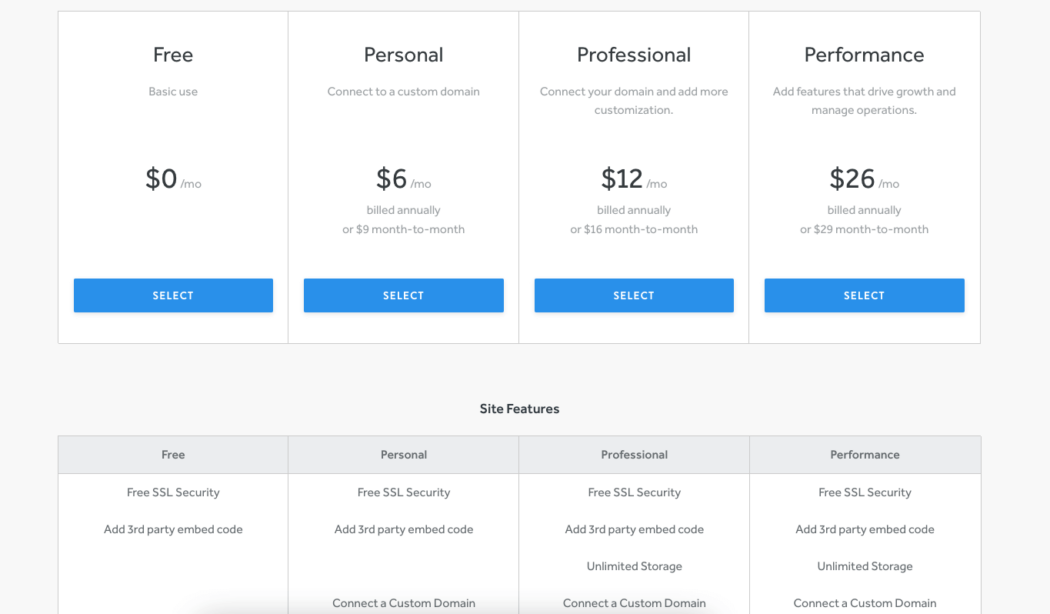 Weebly has 4 plans to choose from. They do have a free plan so you can try out the platform. They have a personal plan that is $6 a month, a professional plan that is $12 a month, and a performance plan that is $26 a month.
Used For
Is great for personal use and portfolios. If you need a website up today Weebly is a great solution.
Cons
Weebly's free plan includes ads
Weebly doesn't have many features as other website builders. If you're looking for a website builder with a lot of bells and whites, Weebly may not be the best option.
Things to consider when choosing a website builder.
When you are choosing a website builder the biggest thing to look for is what website platforms are the developers building their websites on? This is important because you don't want to build your website on a platform that is fairly new or nobody that does web development professionally is using.
This is also important if you plan to hire someone down the road. You want to build your website on something that developers are familiar with and have great search engine optimization built in.
Another thing to watch out for is some of these site builders don't allow you to install web analytics with some of the free and lower-tier paid plans. It's a little trick to get you to upgrade to their higher-tier plans.
What should you do after choosing the best website builder for Search Engine Optimization?
After choosing a site builder that best suits your needs for your business, it's important to take some time and fine-tune your site for optimal SEO results. Here are five key areas to focus on:
Choose the right keywords for your business.
Optimize your title tags and meta descriptions.
Structure your content with headlines and subheadings.
Incorporate imagery and other visuals.
Add alt text to all images.
By following these on-page practices, you can make sure that your site is primed for success in the engines.
Frequently Asked Questions:
How do I optimize my website for SEO?
There are a number of ways to optimize your website for SEO, but some of the most important things to focus on include choosing the right keyword targets, optimizing your title tags and meta descriptions, structuring your content with headlines and subheadings, incorporating imagery and other visuals, and adding alt text to all images.
What is the best website builder for small businesses?
The best website builder for small businesses will depend on a number of factors, including your budget, the features you need, and your level of technological expertise. However, some great choices for small businesses include WordPress, Wix, and Squarespace.
What is the best website builder for eCommerce?
The best website builder for eCommerce will have to go to Shopify. Wix is a great option as well but Shopify is pretty much the standard if want to hire a developer down the road that can help build out your site they will know the Shopify platform inside and out.
What is the best website builder for a blog?
Hands down if you are building a blog website we suggest using WordPress as your site builder. WordPress was built for blogs. This website is a WordPress website.
Will I need a bunch of SEO tools to run my site?
If you are a beginner you will not need a bunch of SEO tools. You can get away with setting up your Google Analytics and Google Search Console.
These two free tools will give you a lot of data that can help you make decisions about your website. You won't need any paid or advanced SEO tools if you are just starting out.
Conclusion
Thanks for reading our review on the best website builders for SEO. There are a lot of website builders on the market, hopefully, we helped you narrow down your choice by showing you what we believe are the best website builders for SEO.
Wix, Weebly, and Squarespace are great choices if you're looking for an all-in-one solution that's easy to use and comes with everything you need to get started. If you're looking for a more advanced platform with more SEO features and flexibility, then WordPress or Shopify might be a better fit.
And remember, no matter which site builder you choose, taking the time to optimize your site for SEO will be key to getting the best results. So don't wait – get started today and see what a difference optimized SEO can make. Thanks for reading!

Hi, I'm Anthony Tran! Welcome to my site. I live in Arizona and am obsessed with all things related to building an Online Business and working from home. Learn about my journey here.