5 Best Web Hosting for Developers (2023)
Are you looking for the best web hosting for your website? As a web developer, you may have experience with building websites before. Thus, you're probably looking for a web hosting platform that offers more advanced features.
In this article, we share some great web hosting options for you.
Best Web Hosting For Developers
1. Kamatera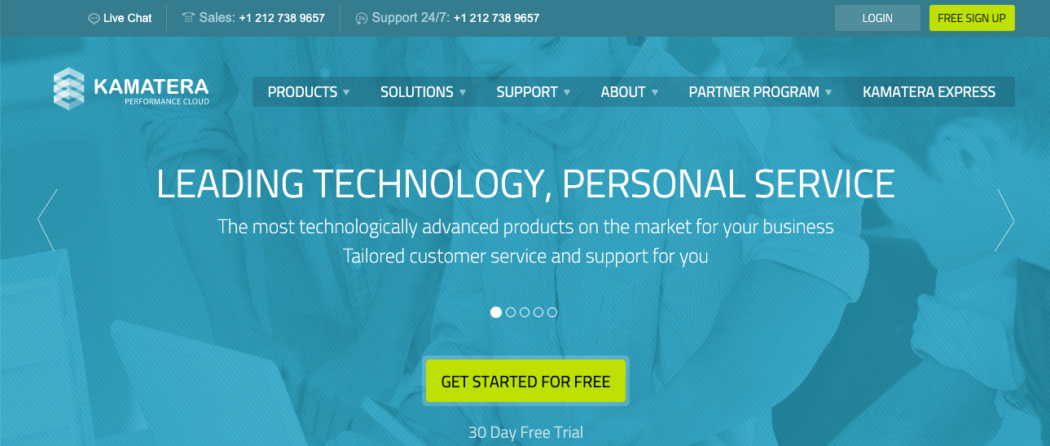 Kamatera offers the level of personalization that other hosts just can't compete with. You can use it to build a cloud VPS from the ground up by defining the precise RAM, vCPU, and your desired storage needs. As the volume of visitors to your website changes, you can scale these resources however you like.
This provides the opportunity to change your server's overall pricing anytime. Any adjustments to your server's resources will take effect immediately because they bill you by the seconds. It is simple to scale up temporarily without paying a monthly fee to handle a traffic spike.
Key Features:
The robust Intel-Xeon processors ensure a 99.9% uptime is guaranteed, giving a quick and dependable
performance.
A free trial that includes a single cloud VDS with a $100 credit is offered for a month.
Server images for standard setups, including cPanel, WordPress, Linux and Windows OS installations, and development frameworks, are available.
Thirteen data centers are spread across four continents.
Overview
| | |
| --- | --- |
| Rapid Deployment Tools | A large list of server images available with one-click installations |
| Starting Price | $4.00 |
| Managed Services | Optional add-on |
| VPS Offers | RAM up to 524, cores up to, SSD up to 4000GB |
| Uptime Guarantee | 99.9% |
| Extra Perks | Additional services include load balancers, block storage, and a cloud firewall that can be customized. |
2. Hostinger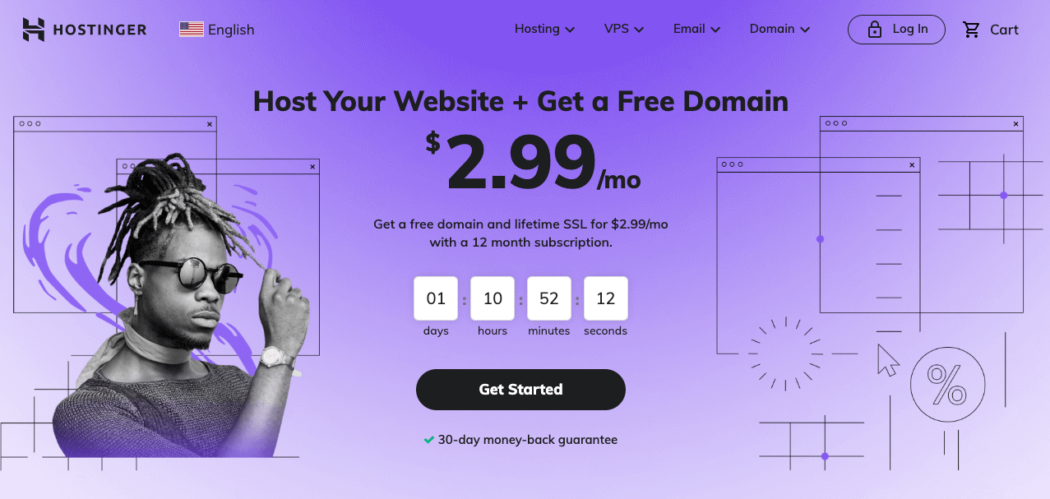 For developers, they provide the most economical web hosting. It has shifted its VDS technology entirely to the cloud. Thanks to this significant improvement, you and your customers can benefit from higher uptime, quicker page loads, and complete root access.
Hostinger's VPS plans are best if you wish to manage an e-commerce website with adequate traffic for the least amount of money and with the most flexibility. The VDS management panel makes it simple to install scripts and programs and backup your files while guaranteeing your server resources.
Key Features:
Uptime guarantee (SLA), and if failed to provide, you'll be refunded 5%.
Reliable and reasonably priced cloud VPSs with Xeon processors.
All plans include LiteSpeed Cache for smooth operations.
VPS backend support and fully managed cloud support
Overview
| | |
| --- | --- |
| Web Tool | Customized CPanel |
| Starting Price | $1.99 |
| Managing Services | On Cloud Plans |
| VPS Resources | RAM up to 8GB, cores up to 8, SSD up to 160GB |
| Uptime | 99.9% |
| Extra Perks | LiteSpeed Caching |
3. Liquid Web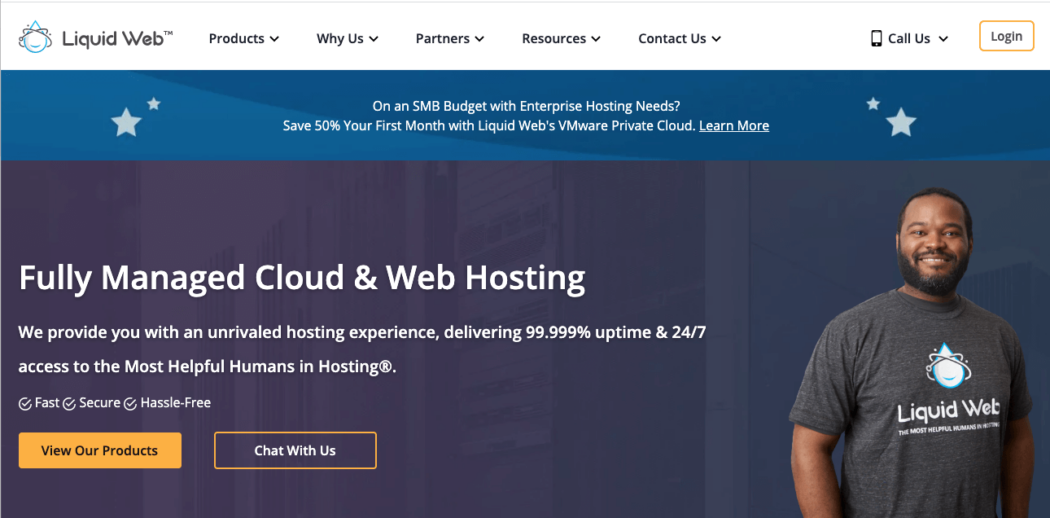 Liquid Web is a premium web hosting solution. With eleven data centers worldwide, Liquid Web currently oversees over 500,000 sites. They provide hosting for VPS, Cloud, and dedicated servers. However, shared Hosting is not a part of their offerings.
The company's Cloud Dedicated plans combine a server's processing capability with cloud technologies' adaptability. If you are familiar with a server's backend, you can save money by using unmanaged choices or core.
Key Features
Intel Xeon Silver provides up-to-date, robust server infrastructure
Uptime guarantee of 100%; if they fail, you will be refunded credit worth ten times the downtime.
All managed services and core have customer support with less than 59 seconds response times.
3rd party cloud analytics ensures high-performance servers.
Overview
| | |
| --- | --- |
| Web Tools | InterWorks or Plesk license, cPanel |
| Starting Price | $15.00 |
| Managing Services | Yes |
| VDS Resources | RAM up to 16GB, cores up to 8, SSD up to 200GB |
| Uptime Guarantee | 100.0% |
| Extra Perks | Staging Environment |
4. Scala Hosting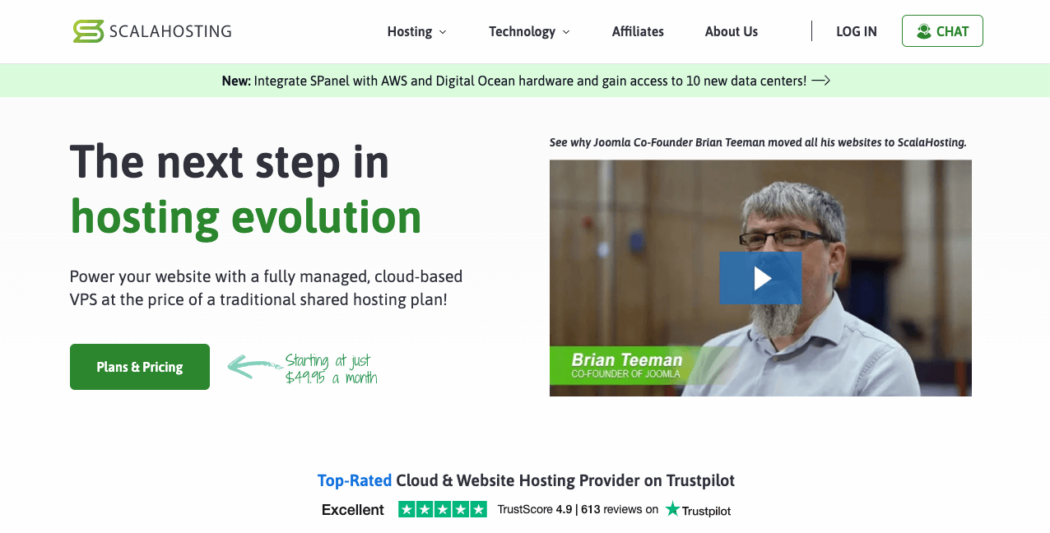 Scala hosting services are a hidden gem for web developers. The self-managed VPS plans are 20-25% less expensive than those monitored by Scala hosting. However, given the added value of fully monitored services, it is in your favor to opt for the managed ones. Doing it this way won't sacrifice your ability to get specialized technical assistance. Scala hosting leaves it up to you to fully customize your VDS resources in case if you have any specific requirements.
Key Features:
Fully Managed plans with affordable prices
Individual account manager and a free, white-label hosting control panel
Uptime guarantee (SLA), and if the company fails to provide, you'll be fully credited for your month's expenses.
OpenLiteSpeed for quick loading
Overview
| | |
| --- | --- |
| Web Tools | SPanel (free) |
| Starting Price | $45.95 |
| Managing Services | Only for higher-level VPS plans. |
| VPS Resources | RAM up to 32GB, cores up to 24, SSD up to 500GB |
| Uptime | 99.9% |
| Extra Perks | OpenLiteSpeed Integration |
5. A2 Hosting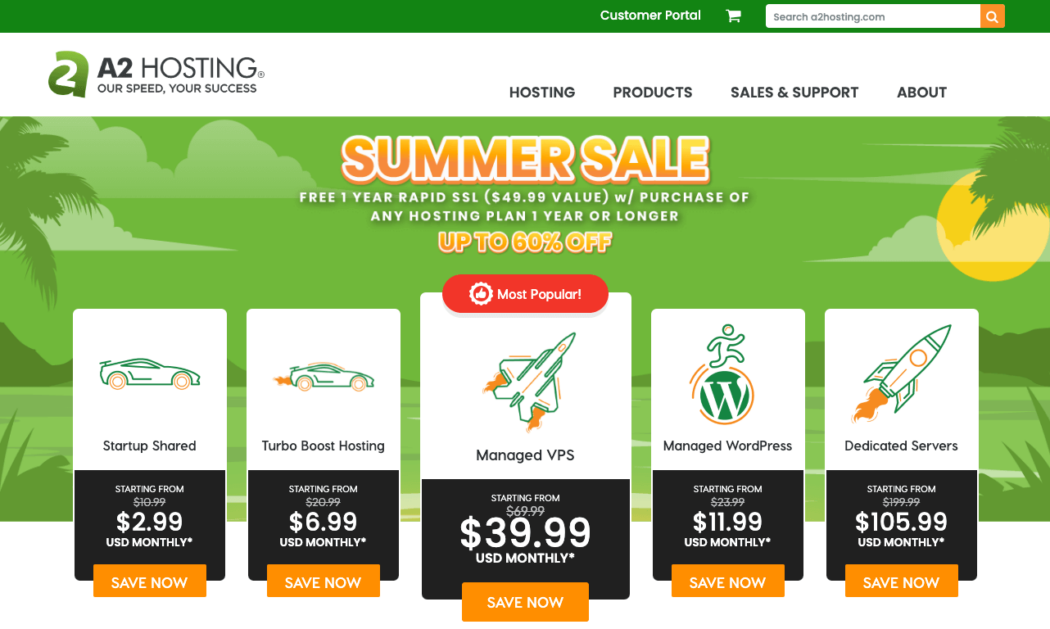 A2 Hosting provides a lot of variety in terms of plan kinds and included features. Plans offered by A2 Hosting can be used for a wide range of reasons, and you can either administer your own site or have it managed for you. A2 Hosting offers its advanced support team. Even on shared hosting plans, the crew will assist with debugging whenever possible.
Despite the unmanaged VDS plan's low cost, you should be aware that it lacks a control panel. The price of a cPanel or DirectAdmin license would need to be considered. However, the good news is that all of A2 Hosting's managed VDS plans include cPanel.
While you can choose where your VPS server is located, A2 Hosting's customizable VDS configurations can be quite expensive. The least costly unmanaged option has only half GB of RAM. The subscription price doubles if you want the standard 1GB.
A2 Hosting allows you to cancel your plan if you think the service isn't suitable, and you will get all your money back. Nevertheless, your goal should be to choose a reputable, reasonably priced, and easily robust web developer environment.
Key Features:
An expert support team that assists with debugging whenever possible
Money-back guarantee
VPS configurations are easily scalable.
PHP, Python, PERL, MySQL, and other developer tools are already installed.
Overview
| | |
| --- | --- |
| Web Tools | cPanel (Managed), Webuzo (Unmanaged) |
| Starting Price | $6.59 |
| Managing Support | For VDS plans |
| VPS Resources | RAM up to 32GB, cores up to 32, SSD up to 250GB |
| Uptime Guarantee | 99.9% |
| Extra Perks | Developer Tools (Pre-installed) |
What is Website Hosting?
clarification on what type of website Hosting you are interested in. It's easier and more accessible than ever to build a website, but it's vital that you comprehend the underlying ideas. Web hosting provides a safe location to store online content. None of us could consistently access web content without the existence of a trustworthy web hosting platform. As a result, web hosting is one of the most critical aspects of developing an online presence for anyone, from small-scale personal accounts to large corporations.
Users can store offsite content thanks to web hosting, which reduces local storage's cost and physical footprint. Features like security and backups already built in make building a long-lasting web presence more accessible. Some web hosting is done locally using personal computers or servers, but cloud-based third-party providers are more commonly used. When looking for a hosting service, you should be able to find various free and paid options to consider.
How to Choose the Best Hosting Provider
With so many hosting options out there, it's easy to become overwhelmed when comparing them all. If reading feature lists and pricing plans causes your eyes to glaze over, shift gears, and spend some time reading user reviews. Before signing up, reading about other people's experiences is often a good idea. These are some of the factors you should consider before choosing your hosting provider:
You need to ensure that the website hosting company you go for provides the highest level of availability. This element, which is also known as uptime, can be quantified by a number. As the number gets closer to 100%, better service availability is guaranteed.
In order to prevent running out of memory, be sure the website hosting firm has the space you need. No matter what the situation, it's always advised that you use the service that best meets your storage needs.
Some of the available website hosting providers include a monthly traffic cap, meaning that the server will either start charging more for "additional visits" or stop displaying your website online after a predetermined number of accesses.
It's not easy to put your website and content in someone else's hands to host. Therefore, you must ensure that the provider you choose can completely protect its clients by providing a system of information redundancy and ongoing backups.
In addition to offering all the necessities for the success of your page, a website hosting provider should be competent in assisting you. Customer service is an essential consideration for many consumers. The provider's responsiveness can distinguish between a problem being handled promptly and a website being unavailable for several hours.
If you follow these suggestions, you'll be much more confident when deciding which Web Hosting company is best for you. Even so, it's always important to keep in mind that there are a variety of website hosting services and that to choose the one that best suits your needs, you must have a thorough understanding of your requirements.
What Should You Expect from Your Web Hosting Provider?
All users value stability and security, but different projects and clients have additional All users value stability and security, but different projects and clients have additional requirements. Some may only need static storage for a simple, text-based website, whereas others may need more dynamic functionality. You may also require access to custom email addresses or sub-domains if you run a small business or a multi-faceted project.
With so many options, comparing costs and functionality is critical when comparing different service providers and their subscription plans. If you don't expect your site to grow significantly soon, go with the simplicity and lower costs of shared, cloud, and VPS solutions. They're beneficial for low-maintenance websites and static pages that don't require frequent updates or a lot of multimedia content.
Otherwise, look for providers with plenty of room for expansion. Even if you don't think you'll need them immediately, consider services beyond domain registration and hosting. If you intend to manage a large amount of content or eCommerce activity, start your search with mid-tier options and avoid those that cost only a few dollars per month.
Frequently Asked Questions:
What are the most important factors to consider when selecting web hosting providers for developers?
Understanding your project's requirements, choosing a suitable plan with enough server resources, and selecting a provider with good uptime and response time are the most crucial factors to take into account when selecting a web host for developers.
Should I use shared or VPS servers to host my development projects?
For smaller-scale websites and applications, go with shared Hosting. If your project involves high loads or simply needs more resources overall, go with VPS hosting. Large websites and enterprise-level applications might require hosting on a dedicated server.
Can I change web hosts?
Yes, depending on how you build your website. If you develop your website with a content management system, you have more flexibility to move it to another host than if you use a website builder, where your website is linked explicitly to that host. This is something to think about when deciding how to build your website.
Conclusion
Choosing the ideal hosting solution for your requirements is crucial. This idea holds true even if you only have a basic WordPress blog. Access to high-performance features, an uptime warranty, server configuration options, and specialized development tools are requirements for developers.

Hi, I'm Anthony Tran! Welcome to my site. I live in Arizona and am obsessed with all things related to building an Online Business and working from home. Learn about my journey here.