7 Best Content Generator For Social Media (2023)
Are you looking for the best content generator for social media marketing? Stick around as we share a list of the most popular options below.
The true strength of social media is the "influence" it has on the people. Social media usage isn't limited to engaging with the people, but companies can also use the power of social media to influence them with relevant content that helps them makes a decision.
The truth is that, when used strategically over time, social media is the most potent form of digital marketing and market research that the world has ever seen. However, it is not a magical bean that sprouts into organizational success overnight. It serves as a platform for actual work.
What are Social Media Content Generators?
Social media content generators are online tools that can help generate written or visual content for your social media platforms. Some of the tools out there are fully automated and can function independently, while others will need to be managed, but they can assist you in producing content for your social platforms, Instagram, Facebook, Pinterest, Twitter, etc. They generate content with the help of Artificial Intelligence, language models, and other technologies.
Some social media content generators are smart enough to do different tasks for you, such as paraphrasing a given article and expanding, summarizing, and proofreading your written content. Furthermore, these tools can help generate ideas so that you can get inspiration for your content. Not to mention that AI content generators can generate unique and plagiarism-free content in multiple languages.
Finally, these tools can save you not only time but also money, especially if you plan to hire a writer, graphic designer, or video creator.
How to choose a Content Generator for your social media?
Here is a list of qualities you should look for in a content generator before we delve into the list of best content generators for your social media:
A single content generator must be capable of creating content for all social media platforms.
The software must use marketing frameworks to generate content to make your social media posts more engaging.
To create content efficiently, the content generator should utilize the power of AI, such as the advanced AI model by OpenAI (GPT-3). In addition, the software should be able to use technologies such as ML, CTRL, NLP, etc., to generate content for social media.
Rather than making you do all the effort, this software should be able to generate simple, seamless, and automated content. Furthermore, it would be constructive if the generator could provide content ideas on its own.
In a perfect world, it would be fantastic if you could obtain all of the content generators features free of cost, but that's not how the world works. There will come a time when you need to scale back on your social media content creation, and in that event, you will be forced to upgrade to a premium account to get access to all the features offered. In that scenario, the software should provide you with the best and most flexible pricing plans.
Best Content Generators for social media:
1. Jasper
Jasper has made our lives easier since we began working remotely. It is an Artificial Intelligence copywriting tool that includes over fifty copywriting templates. Using these templates, Jasper excels at creating exceptional content copies for social media platforms. As a result, it is naturally one of the best social media content generators.
In the year 2020, Jasper was born into the digital world. It has since grown to 30,000 marketers, bloggers, copywriters, marketing agencies, and other businesses. Not to mention that it has received high ratings and positive reviews on major review platforms.
Its increasing popularity can be attributed to its feature set, simplicity, and overall content generation efficiency. Like many other content generation tools, Jasper uses artificial intelligence. This allows the software to generate social media content as if any other social media marketer wrote it.
Pricing and Plans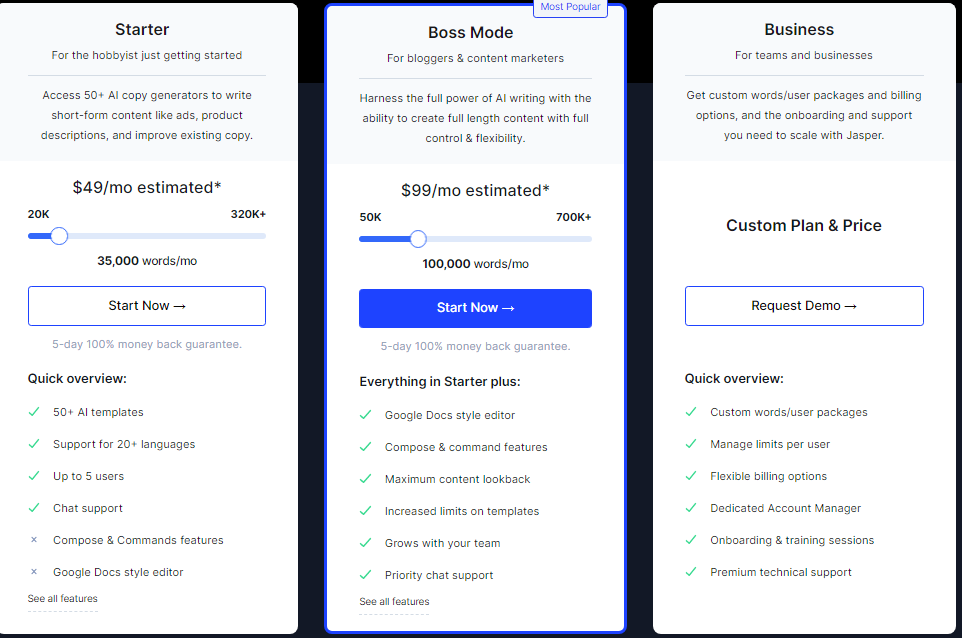 2. Rytr
Since its launch, they have been trying to revolutionize the social media marketing industry. The software generates the content and posts ideas for social media in real-time. As a result, it naturally becomes one of the most effective social media content generators one could opt for.
A key feature of Rytr is that it can generate ideas for social content in addition to content generation. This feature is helpful for all social marketers and marketing teams who want to create a comprehensive social media calendar. All of this is accomplished in under simple steps. At the same time, it meets the needs for social media ad copy.
Pricing and Plans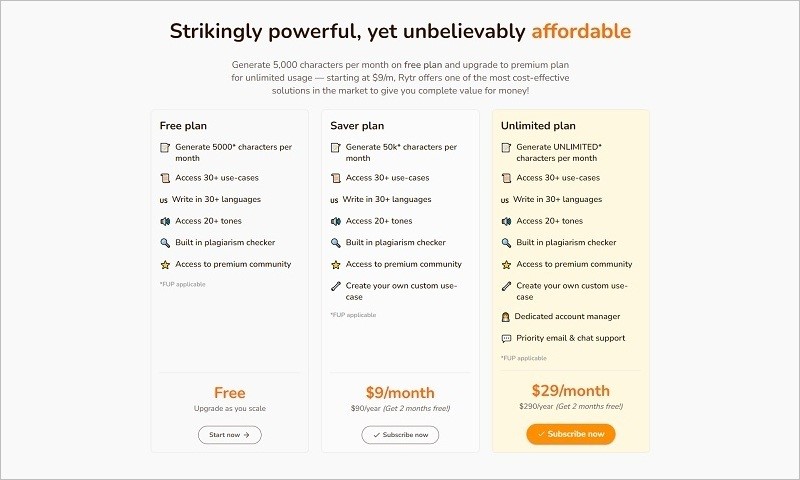 3. CopyAI
CopyAI is yet another piece of software that has transformed the content generation industry. CopyAI, like other social media content generators, employs the help of AI to generate social media captions, ideas, and other content. CopyAI can be an excellent choice if you want copywriting templates because they provide 15+ templates. One of these is the creation of social media ad copy.
At first, CopyAI may appear challenging to use, but in reality, it is a straightforward task. To start with, simply select the type of use case, such as social media copy. Following that, you'd need to enter a few phrases or sentences about your product, business, or post. Following that, their powerful AI tool will generate up to ten copies at a time.
Pricing and Plans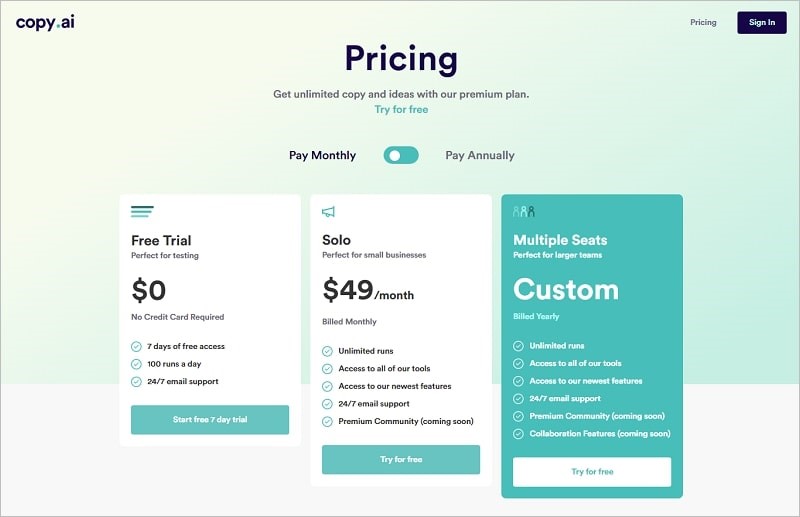 4. Writecream
They are one of the most recent software to hit the content generators market. Despite their youth, this tool is giving all other content generators a run for their money. Writecream, like other tools, creates content using the language learning model GPT-3 by OpenAI. As a result, it produces high-quality content for social media. As a result, they are one of the best social media content generators.
You'd also be interested to know that they can quickly generate social media ad copies, posts, and captions. Writecream also provides a plethora of other use cases and content templates to add value. All of these templates are backed up by AI and other tried-and-true marketing frameworks. Many marketers, influencers, bloggers, and other marketing teams, rely on Writecream because of its content availability.
Pricing and Plans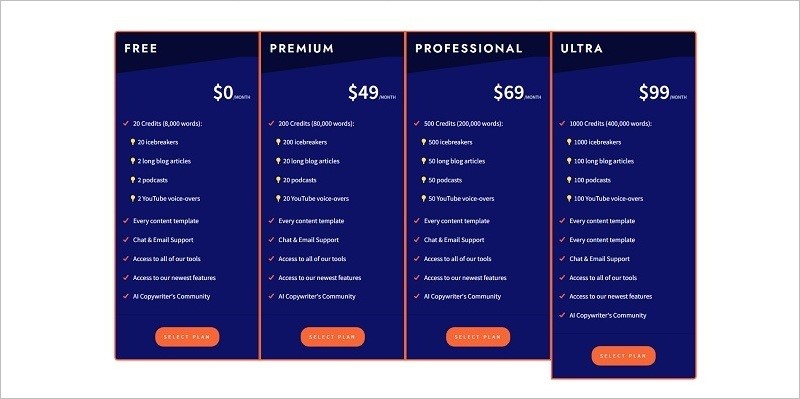 5. Peppertype.ai
Let me introduce you to another new social media content generator, Peppertype.ai. It, like other software, is based on GPT-3 AI model. And as we all know, AI is highly efficient at creating content. However, what differentiates Peppertype.ai from its competitors is its ability to generate both textual and graphical content for social media. To be more specific, AI handles the textual content generation process. Simultaneously, it provides a graphics creation service for all of your social media posts.
When all of Peppertype.ai's tools are combined, it is one of the most efficient and robust social media content generators. To support my claims about its efficacy, you should know that the software has served notable clients like Swiggy, IndiGo, Amazon, and others.
Pricing and Plans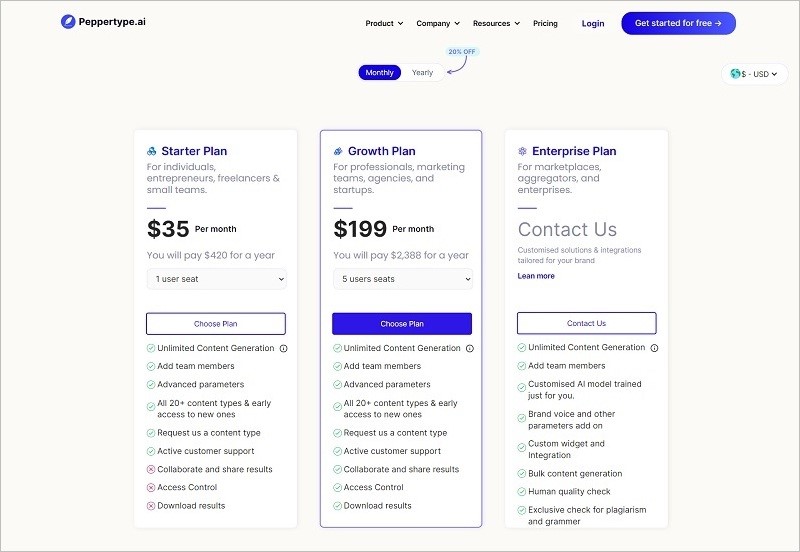 6. Synthesia
Since we've already discussed written social media content generators, let's move on to the best video content creator—Synthesia, which is suitable for individual and group use. Powered by AI, this software can create videos for various social media channels without you having to be in front of the camera.
Synthesia allows you to create videos up to 30 minutes long for different social media platforms such as YouTube, Facebook, Twitter, or any other social media platform. Unlike other video content generators, they use Artificial Intelligence-simulated human avatars to create engaging content for your audience.
To make videos with this platform, simply choose your favorite template, enter your script, and select your preferred avatar type. Synthesia will quickly create high-quality realistic videos that you can use anywhere. Synthesia videos are highly realistic because of AI technology which is used in the video generation process. There is an excellent synthetic voice narration and natural body language
in place.
Synesthesia can produce content in more than fifty languages if you require videos in languages other than English. Additionally, Synthesia can translate the same video into multiple languages for you in a matter of minutes.

Pricing and Plans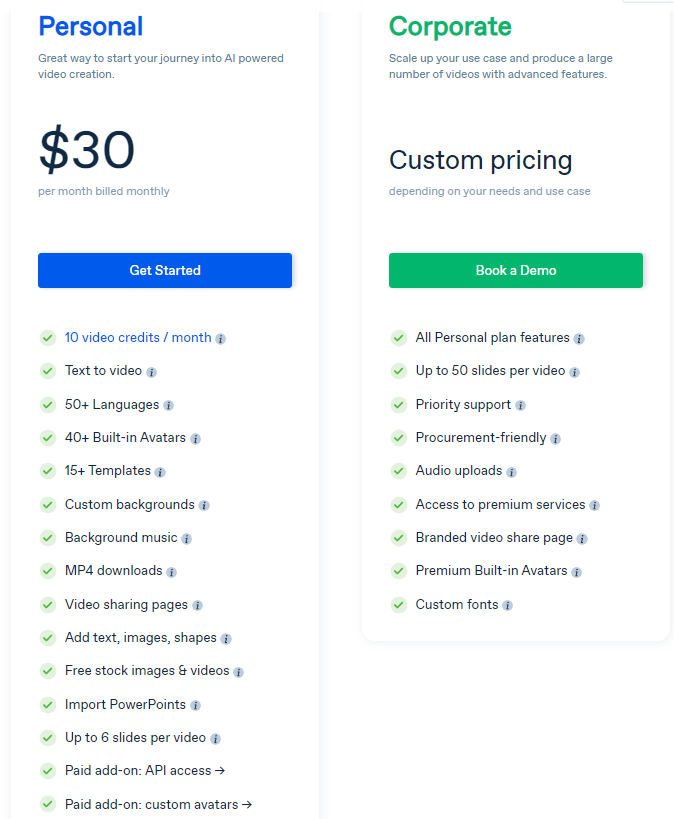 7. Canva
Canva can be used to create social media visual content instead of Photoshop, Adobe Design, or any other software that requires learning. Canva is extremely simple to use and allows you to create high-quality visual content with minimal effort. This tool can assist you in creating content for all social media platforms, including Facebook, Instagram, Pinterest, YouTube, and Twitter, and it is free to use.
Canva is best known as an image creation tool, but it now allows you to make videos and GIFs. Canva is fantastic because it provides over 250,000 pre-designed templates and hundreds of thousands of photos and graphics for free. It also includes an easy-to-use design editor allowing you to create over 100 design types, including many for social media.
Canva has the power to generate pre-designed templates based on your preferred social media type. Canva can also deliver designs of any kind of visual content because you can choose a custom canvas size before designing it.
Pricing and Plans (50 People)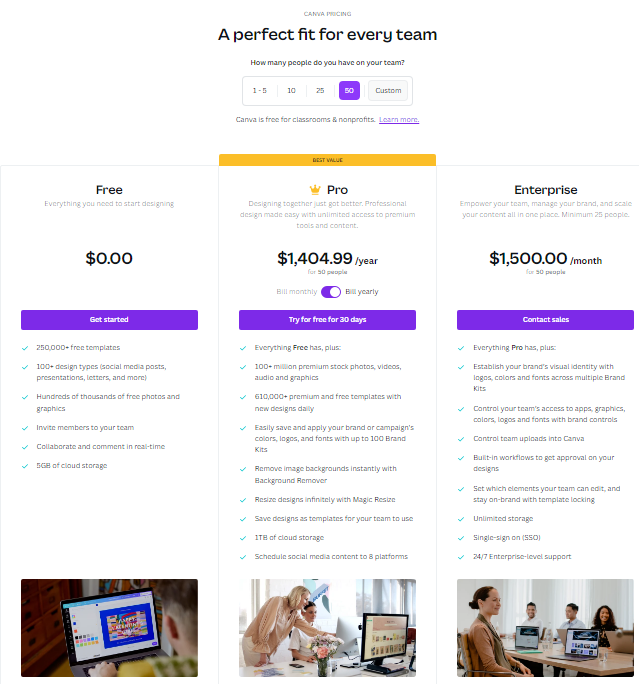 What to expect from these Content Generators?
AI algorithms analyze vast amounts of data and extract patterns. All of these AI social media content creators currently use machine learning methods to produce individual posts. Typically, they rely on data that has been scraped from open websites, discussion forums, blogs, news articles, etc. However, we can say that many GPT-3-focused software will produce original, plagiarism-free text suitable for any application. There is still a long way to go for automated and AI-generated graphics, requiring more human input than other text-based features. Just be aware that you shouldn't anticipate mind-blowing outcomes immediately, especially while you're still familiar with the tools.
Instead, spend some time getting familiar with the program and gradually enhancing your knowledge of how to influence AI. Move on to the next one if the first one is unsuccessful, and give each one a fair chance to meet your needs. When you locate one that does, you can save a ton of time by delegating the labor-intensive tasks to a robot.
Keep in mind that automation is only beneficial if it functions perfectly. Therefore, it's imperative to thoroughly test your chosen generator before making it available to the general public. If you want to avoid embarrassing mistakes, try testing it on a personal account.
Why do you need to post social media content regularly?
Regular social media posting is essential to keep your company flooded with potential customers on your social media site. When you are memorable, you are more likely to generate leads through social media. Let's look at some of the reasons why you need to post regularly on your social media:
As previously stated, utilizing the power of social media in the right way makes your standout and memorable to potential customers. You ensure that your customers see more of you by posting frequently.
You can dominate the search engine results in favor of your brand by posting new content on social media platforms. Search engines will highlight your content at the top when someone searches for relevant content.
One of the strengths of social media is that it allows you to learn more about your customers. By posting regularly, you can gain more insight into what types of posts work and which don't, which can help you determine what topics your readers are interested in.
Social media plays an essential role in bridging the communication gap by allowing the customers to communicate via a complaint, a compliment, or a comment. This effective communication ensures a customer that you are active and ready to assist if any help is needed.
Your audience may forget about you and your brand if you do not maintain a consistent posting frequency on social media. The world is changing too fast, with new brands launching every other day, making the competition more challenging. As a result, developing a social media marketing strategy and a robust social media content calendar is essential.
Conclusion
You now understand why using content generators for your social media platforms is critical. They help automate your social media marketing efforts, and with the help of these tools, they make your job a lot easier. While some of them may have a complicated design, by providing a pre-designed interface, they simplify the entire process. Whether you prefer to work on software-generated ideas or go with your thoughts, this blog should have helped you discover the best social media content generators.
Have any questions regarding the topic Best Content Generator For Social Media? Feel free to comment below.

Hi, I'm Anthony Tran! Welcome to my site. I live in Arizona and am obsessed with all things related to building an Online Business and working from home. Learn about my journey here.