11 Best AI Marketing Software Tools (2023)
Are you looking for the best AI marketing software tools to streamline your online business? Stick around as share a list of the most popular options for you below.
"Marketing's job is never done. It's about perpetual motion. We must continue to innovate every day." — Beth Comstock, Former CMO & Vice Chair, GE
It's difficult to say that you own a successful business without marketing. The more our technology advances, the more essential marketing becomes.
Hundreds of businesses now produce the same products and target the same group of people. If you're not optimizing your business and showing the world that your product is different, then your business won't thrive.
It's no longer viable to market your product through posters and word spread. While that approach is still used, it's more like a complementary approach. Nowadays, the main advertising platform is the internet.
Whether you need to advertise your product, optimize it, write about it, or track its feedback, you'll need AI marketing software.
Today, we bring you the best AI marketing software currently available on the market. For diversity, we'll refrain from mentioning two software that performs the same function. Each of our artificial intelligence tools has its own marketing strategy.
Best AI Marketing Software Tools
1. Seventh Sense (Email Marketing)
In a world where emails are essentially the text messaging of work, it becomes important for senders to have their emails actually opened by the recipients.
If you are working or have worked in a large company, you should already have an idea of how crowded your inbox can be. More than a few important emails may slip by undetected.
So, if you're the email sender and you want a higher chance to have your recipient read the email, Seventh Sense is for you. It's a smart email delivery optimization software.
You no longer have to bother selecting the appropriate time to send an email. The smart AI detects the pattern of how often and when your recipient opens his or her emails.
Seventh Sense can use this predictive model for all of your contacts and determine when's the best time to send them an email.
2. Jasper AI (For Copywriting)
Marketing your product requires a well-written text that clearly describes your product in an appealing manner. That well-written text will either take some time from you to write or some money from your pocket if you hire someone else to do it for you.
What if you can replace that some(one) with some(thing) that cost you less money in the long run? You now can. Meet Jasper.
Jasper is an AI that, when fed with the appropriate information, can create content for your blog or website without copying it from any other source.
When you copy-paste someone's work, that's plagiarism. When you rewrite the work of other people using your own words, that's research. When you hire an AI to do your research for you, that's the future.
Jasper AI's creators claim that the AI has read 10% of the internet. 10% may seem like a minor percentage until you realize that the internet data takes over 1,000,000,000,000 gigabytes of space. In other words, Jasper has learned over 100 billion gigabytes worth of information!
However, at the end of the line, Jasper is still an AI and is bound to make those "bot mistakes." You'll still need to proofread the content it creates but it's still much faster than doing the whole thing on your own.
3. Grammarly (Content Marketing)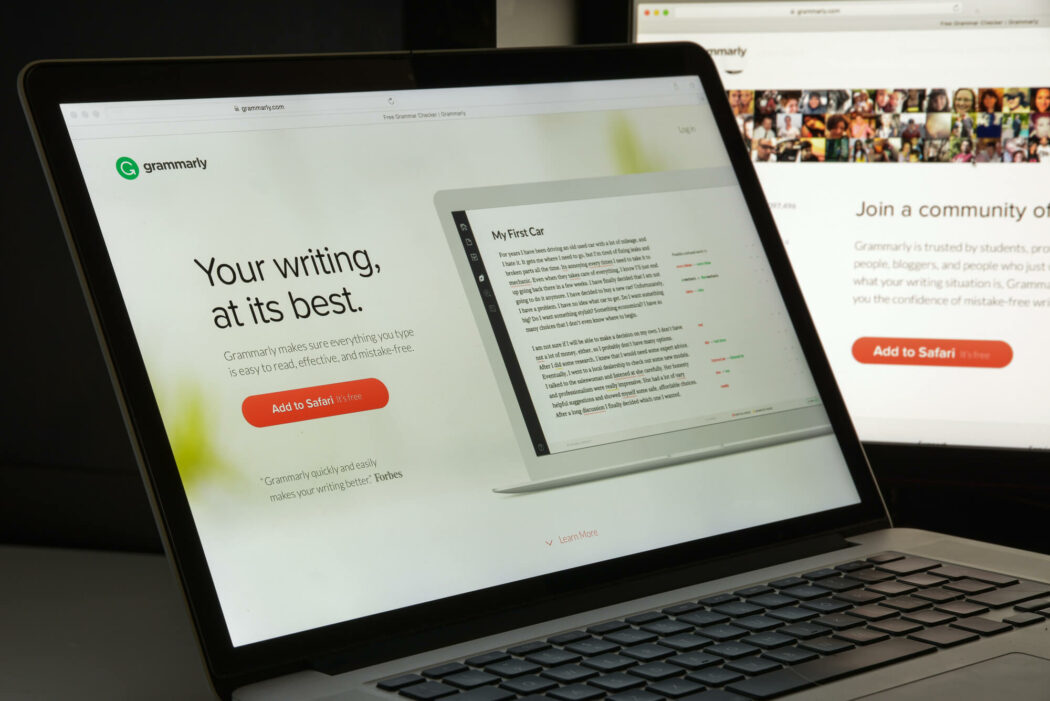 Before marketing software such as Grammarly appeared, content writers had to spend hundreds of hours to make sure that their written content was free of English language mistakes.
Writing software like Microsoft Word and Google Docs does offer some degree of spelling check, but that's as far as it goes. You get a simple blue or red line under a word with the suggested correction.
However, you don't get to know why that suggestion appeared there. Not clearly, at least. Additionally, it skips over tens of mistakes that are otherwise found by Grammarly.
Grammarly scans your document and checks for punctuation, spelling, grammar, context, and even structural errors — all while telling you valuable feedback about it.
Grammarly offers both a free and a paid service. The free service is enough for standalone writers who need a good second eye on their content. It checks for all the mistakes and even highlights word redundancies.
The paid version provides that plus some advanced suggestions. It can shorten lengthy or confusing sentences, help you select better suiting words for your context, eliminates unnecessary passive voice uses, and more.
Grammarly also allows you to have a target audience for your document. You can select whether your document needs to sound professional, casual, or friendly. The feedback will be adjusted accordingly.
4. Marketmuse (Content Optimization Software)
A perfectly well-written content loses a lot of its potential if it doesn't reach its potential customer. Quick question, when was the last time you reached out for Google's page two?
Most people would just alter or change their searched queries instead of going to Google's second page. This is when Market Muse comes to play.
Market Muse takes your needed keyword and browses the internet for anything that includes that keyword. It would then give you a list of words that you need to include in your article.
Some of these words are high priority and need to be used as many times as possible. Others are more like supplemental words that should only be used within a certain range.
Once you finish writing your content, you paste it into Market Muse and get a score. You get to compare that score with other content on the web that tackles the same subject to see where you stand.
The higher your score is, the more optimized your content is, and the more likely your work will appear on that prized first page.
5. Influencity (For Influencer Marketing)
Influencers are people who may direct a group of other people to or away from a certain product or business.
An influencer can be as sophisticated as to direct you towards a certain investment, or simple enough to steer you away from a certain restaurant. What's undeniable is that influencing is a growing trend that does actually work.
Influencity is a marketing software that allows you to reach out to those influencers. The developers of the software claim that it's the most complete influencer marketing platform.
We're not assuring or denying that claim, but when business giants like Samsung and Kellog's use influencity, then it's certainly worth your time.
Influencity covers all major social media platforms like Facebook, YouTube, Instagram, Twitter, and even Twitch.
6. Browse AI (For Scraping Web Pages)
Browse AI allows you to monitor and extract data from websites within minutes. You can either train a robot to follow a specific data extraction algorithm or choose from prebuilt robot setups.
How is that going to help your business marketing? It ups your competitive intelligence game. With Browse AI, you can know the pricing strategies of your competitors, their product launch dates, and even reviews.
You can train Browse AI to extract low-star reviews in a competitor's product and market your own to overcome whatever caused the low product reviews.
You can also check the price ranges if you want to make a unique promo or just gauge product prices in the market.
Browse AI can also mimic human behavior while browsing websites. Because of that, it can fool bot-spotting tools like captchas. Amazon and Adobe are among the business entrepreneurs that use Browse AI.
7. ChatFuel (For Chat and Messaging AI Tools)
ChatFuel is a smart chatbot that can replace your FAQs page and help your audience to get answers faster.
Chatbots are yet to sound like humans. If you text a chatbot long enough, you will be able to spot the response pattern and easily deduce that it's a chatbot.
Some chatbots are smarter than others, though. Previously, your questions needed to be mistake-free for the chatbot to understand you. Now, chatbots are a lot more linguistic and can respond to a wider range of questions.
Chatfuel's bots are exceptionally good at responding to questions that have grammar mistakes. The bots are constantly updated with different variations and forms of words. They can even detect slang.
Whether you agree with the idea of chatbots or not, they can be very helpful. ChatFuel is an official partner of Meta (previously Facebook.) If it's worth Meta's time, it has a high chance of being worth yours.
8. Brand24 (Media Monitoring AI)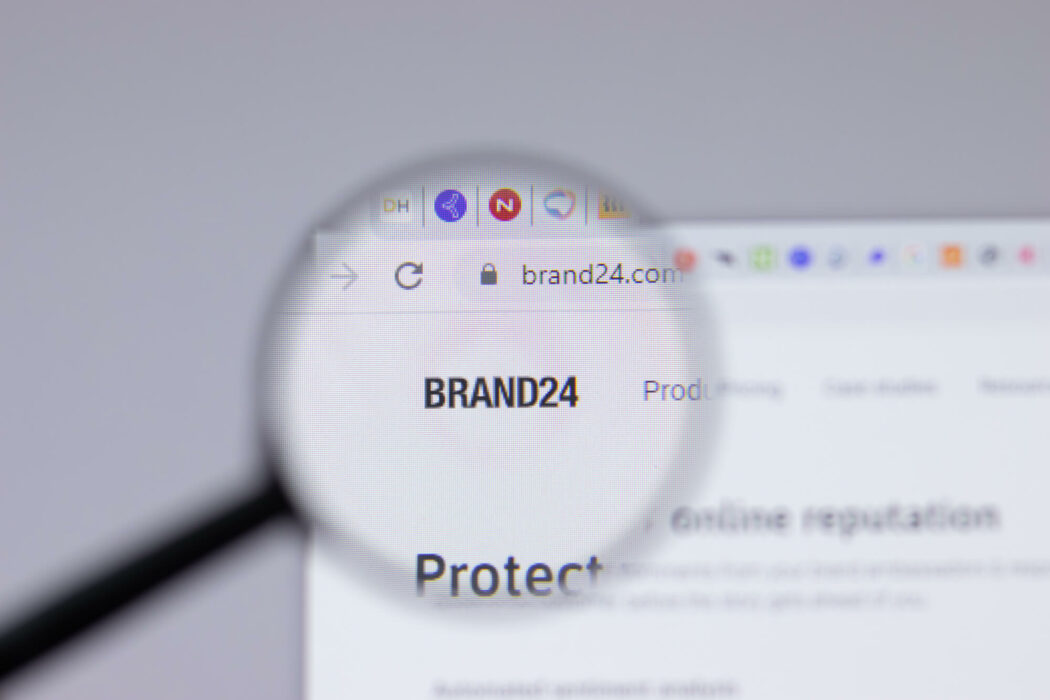 One of the most important aspects of a business is the feedback it gets from its clients/customers. This feedback highlights consumer-based product flaws that may otherwise slip by during product testing phases.
The quicker a business responds to customer feedback (especially negative ones) the more reliable it will be.
Using Google to find reviews, opinions, and feedback might seem feasible at first. Yet, you're bound to miss tens of websites that may be mentioning your product or your business.
Brand24 allows you to quickly close the gap between your business and its clients without having to track every website individually. It scouts social media, videos, forums, and blogs to monitor any mention of your product, business, or any related keyword.
This helps you track any criticism or negative feedback that concerns your business before it gets bigger and becomes a trend. In a world where everyone can browse the internet from their pockets, becoming a negative trend can be devastating.
9. Albert AI (Digital Advertising AI)
Albert AI is a smart, self-learning AI that continuously learns your advertising targets over time and helps you spread them across different platforms.
Advertisements are the bread and butter of marketing. The consumer needs to see your product and feel the need to buy it. For that, Albert AI personalizes your ads and spreads them over various platforms to reach your audience.
Albert AI improves the chances of delivering your ads to the right audience. It even targets micro audiences, saving you from the ad campaign hit or miss pothole — all while being more cost-efficient.
Harley-Davidson Motorcycles is one of the business leaders that utilize Albert AI in their arsenal.
10. Reply.io (AI Sales Email Assistant)
Creating standard email responses is one of the most tedious, labor-intensive processes in marketing.
Reply.io doesn't only relieve you from that frustrating process, it also allows your automated responses to reach clients that don't even exist in your contact list.
All you need to do is to create a cold email drip across multiple channels. Reply.io would take it from there and automate responses. It uses its AI-powered scoring to identify potential customers who might be interested in your product.
11. Writer (AI-Powered Content Writer)
When your content includes thousands of words that may take an extended time to deliver, you'll need multiple writers on the project to finish it quickly.
However, even if assigned the same topic, writers will have different writing styles, different mistakes, and different approaches.
That's when Writer comes into even the playground. Writer is a collaborative tool that provides a database of approved terminology regarding hundreds of topics. The lack of coherence that may be caused by multiple writers will quickly switch into one, coherent content.
Additionally, Writer boosts the features of usual text software like Word and Google Docs. It provides autocorrect, grammar checks, often-used snippets, and catchphrases, and it can even autocomplete some sentences based on AI learning.
If you have a team of writers working on a project and you need minimal to no supervision on them, Writer is your to-go software.
Conclusion
There you have it, 11 of the best AI marketing software on the internet. From grammar checking to search engine optimization software, this list should have everything you need to take your marketing campaign to the next level.
Most of these marketing AIs have either a free service or a free trial that you can use before you consider a subscription. It may be worth checking those out because even if the idea seems appealing, not every marketing tool will suit every business.

Hi, I'm Anthony Tran! Welcome to my site. I live in Arizona and am obsessed with all things related to building an Online Business and working from home. Learn about my journey here.