CUSTOM WEBSITE DESIGN PROJECT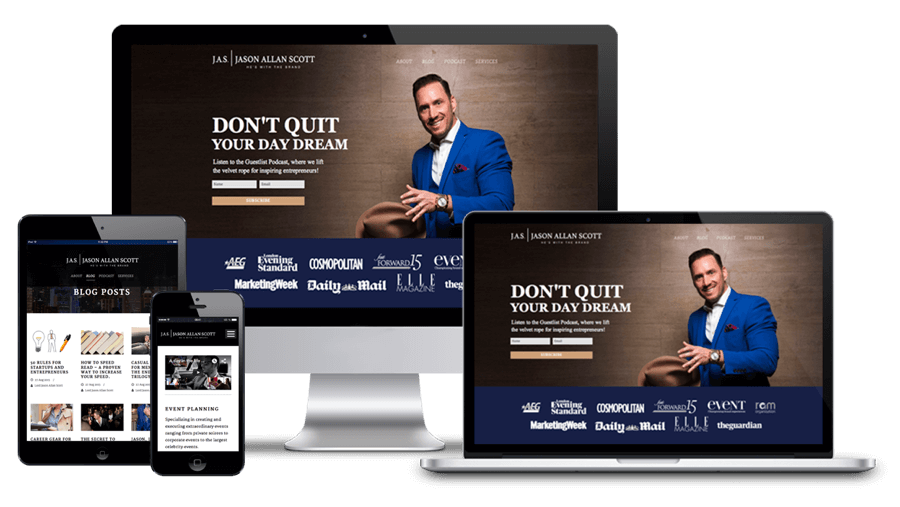 PROJECT OVERVIEW



"Jason Allan Scott" is an award wining event professional, founder and director of a Sales and Marketing consultancy firm.  When Jason approached Marketing Access Pass to create a custom branded website, he needed a brand new website built from the ground-up.  Jason already had a loyal social media fan following on Twitter, Instagram, LinkedIn etc.  Unfortunately, he did not have a "homebase" to drive traffic to and generate leads.  He also needed a website that could showcase his expertise in the event planning industry, and his new upcoming show "The GuestList Podcast."
OUR SOLUTION
We built the new website utilizing WordPress and Parallax technology.  Jason had a free blog hosted on WordPress.com.  We exported his entire blog content from that site and imported it into his new site.  This migration of content paired perfectly with our email optin-forms on his sidebar and below post.  We also created a section that displays his podcast with Mp3 players, and an ability to subscribe to his show via iTunes, Stitcher and more.  The new website now showcases Jason's personal and professional background and has helped him generate more leads for his business.
CLIENT TESTIMONIAL

"Once I saw the work Anthony and his team had created, I was amazed! And from day one he took me through each step and advised me on steps I had not even thought of. I owe you Anthony, and your team the biggest debt of gratitude, a HUGE thank you to you all for the website and ease of use you have created for me. I am just lucky you are not in events, or I would be out of business. Thank you, sincerely, THANK YOU." ~ Jason
LET'S MAKE YOUR GOALS A REALITY! CONNECT WITH US TODAY...