25 Best Digital Marketing Blogs to Follow
Looking for the best digital marketing blogs to follow? Well stick around because you're in the right place. We will share some of the best Digital Marketing Blogs to read in 2021.
Let's face it digital marketing is complex. New technologies and trends are even making it inaccessible for many. However, it is imperative for both beginners and experienced marketers to be aware of the latest trends.
The aspiring marketers need to be more careful as they need to understand different concepts such as content marketing, social media, search engine optimization, backlinks, and mobile marketing to secure their place in this industry.
Thanks to these digital marketing blogs were able to stay on top of the latest trends.
Here are the list of top digital marketing blogs that you should read to help boost your digital marketing skills.
Best Digital Marketing Blogs
One of my new favorite blogs comes from a WordPress page builder plugin company called Beaver Builder. They write mainly about WordPress tips, tricks, and share different WordPress tutorials and courses, but it definitely applies to many aspects of Digital Marketing since WordPress powers over a 1/3 of websites in the world. For example, one of their latest posts provides a list of resources where you can find help with WooCommerce. It's definitely worth checking out as they publish an article once a week.
All the major online retailers and websites are endorsing Backlinko. You can take the example of IBM, Amazon, Disney, and Apple. The founder of this blog is Brian Deon. He is one of the most sought-after SEO experts. Like the previous one, this blog will help you with actionable SEO advice. You will get exact strategies, tips, and techniques to get higher rankings in top search engines. The founder also shares the findings of his case studies. In addition, you will come to know about all the latest SEO trends.
Moz blog is popular among digital marketers. It is one of the best sources available in the current condition to feed your mind with SEO updates. Moz discusses different aspects of SEO such as the latest trends, techniques, practices, and studies. This blog covers everything that a marketer should know about the SEO including keyword planning and recent algorithm update. The contents are simple, straightforward, and easily digestible. This blog is ideal to deepen your knowledge about SEO and its updates. You can integrate them into your marketing plan to increase the visibility of your website.
A website cannot prosper without powerful and simple contents. Therefore, it is important for beginners to create the best content to grab the attention of visitors as well as to secure the place on search engines. If you are looking for the best content creators, you can consider HubSpot blog. This blog is popular for the best content creators. The contents cover different topics and discuss inbound marketing. You will also find topics beyond inbound marketing.
Google is the key search engine. A digital marketer cannot ignore Google while planning a marketing strategy. While designing your website, it is important to understand Google and its unique requirements. For this, you can follow Think with Google. It discusses the best practices of digital marketing. It will offer you insight into different channels and will enable you to explore the latest trends. It brings the like-minded persons together to help the beginners to understand digital marketing and its trends.
Content marketing is one of the important aspects of digital marketing. In fact, it has become the key subject in the digital marketing world. All the websites focus on the contents to stand out among the competitors. The Content Marketing blog is all about the contents. It discusses the value of contents in digital marketing. In addition, the blog will cover all the best content marketing practices and the latest trends.
Do you want to make money from your blog? Do you want to be the master of your earning? If yes, you can follow ShoutMeLoud blog to get answers to all your queries. This blog can help any blogger to make money regardless of type. It has more than one million subscribers. In addition, it has received some awards for the effective tips that have helped many to make money from their blogs.
Bluffer blog is a bit different from the blogs explained above. It focuses on analytic and social media platforms. You will love the simple and easy to implement tips and contents. The posts are effective as they focus on the findings of case studies on the latest trends, design, current news, and other aspects of your blog. The contents are both entertaining and effective. Even if you are a beginner, you are going to appreciate this blog for its crisp, neat, and intuitive design.
Search Engine Journal is all about search engine marketing. If you are planning to create a blog and make money from that blog, then you cannot ignore the search engine. Your marketing strategy should be search engine oriented. Search Engine Journal will help to design such a marketing strategy. It covers the search engine updates including pay-per-click marketing, search engine algorithms, and other effective information and trends on SEO.
Social media is one of the important aspects of digital marketing. You will have to be active on social media to get exposure for your blog. For this, you will have to understand social media and its latest trends. SocialMediaToday blog is designed to serve this purpose. It covers the latest trends of social media and helps readers to capitalize on it. You will find different sections covering different subjects such as content marketing, digital strategy, and social media marketing. The blog is popular for easy to understand infographics. You can go through them while following a busy schedule.
Marketing Land covers all the aspects of digital marketing. If you are completely unaware of the industry trends and practices, then this blog can help you in a great way. You will find everything under one roof that includes SEO trends, mobile SEO, social media, analytics, and much more. Marketing Land is popular among the new bloggers for its powerful and provoking contents. You can follow the strategies to refine your SEO, mobile marketing, or SEM. There is something for all the bloggers.
Quick Sprout blog is created by Neil Patel. The creator is a recognized entrepreneur. The blog is endorsed by the Wall Street Journal and Forbes Magazine. The best thing about this blog is its simplicity. If you are an aspiring marketer, you are going to love the simple design and contents. The contents of this blog speak for themselves. This blog is also well organized with different categories such as all-time hit, current hit, and a guide. It covers almost everything ranging from social media engagement to email campaign.
Kissmetrics blog is about testing insights and analytics. You can have insights on everything that you need for your marketing strategy. Their expertise is data-driven marketing. They analyze statistical trends and create reports to provide a better idea about the online performance of a brand. The posts can help you to improve your digital marketing strategy on the basis of data analysis. Their findings can help you to reshape your decision.
Econsultancy offers information about the biggest brands. You will get the latest trends, news, and insights of the popular brands that can help you to design your marketing strategy accordingly. In addition, it provides some important and effective digital marketing statistics.
Your blog cannot be successful only by focusing on powerful and effective contents. You will also need to follow some proven content marketing strategy to promote your content. GroupHigh is designed to serve this interest. This blog is about influencer marketing. It covers content marketing tips, trends, and the main influences in the industry.
As a digital marketer, your focus will be on digital marketing strategies to get success. This blog thinks the opposite. It enables to think out of the box. Instead of following some basic rules of digital marketing, it will inspire you to think some other ways to connect to your customers. In brief, it will enable you to motivate offline customers. The blog does not cover general tips, practices, and strategies. Instead, it helps to find a different angle for marketing.
Digiday can help to achieve your long-term goals. Even if you are an experienced marketer, you will find many helpful tips to make money from your blog. It covers all the latest trends of popular blog brands. These tips can be effective in the long run. You will come to know about the strategies of popular brands and can integrate them with your existing strategy to achieve more success. In addition, it will help you to know what you are lacking in your strategy and which changes can make a big difference.
Convince & Convert blog is about the content marketing. Therefore, you can expect all the latest trends in content marketing. It covers social media strategy, content marketing strategy, research, practices, case studies, and any other thing related to content marketing. The blog is popular for its smart and actionable strategies. You can follow these strategies for the success of your blog.
Yes, you are right. As the name itself suggests, it is about social media platforms. It focuses on the outstanding features of some popular social networking platforms. In addition, this blog covers the best examples of social media marketing. You will also get advice and tips on social media marketing. You can follow this blog to know the best practices and trends of social media marketing as well.
A digital marketer tries the best to boost the search engine optimization. Unbounce can help you to achieve the end result. It covers all the aspects that you need to do with landing page optimization. The strategies are easy to follow and actionable. You will get the details for easy implementation. This blog posts cover product marketing, Pay Per Click, Campaign strategy and much more under one roof.
All the bloggers want to make money from their blogs. Digital marketing is a step towards achieving their objective. Digital marketing helps you to make money from your blog. Monetate is designed to help you with this purpose. It covers the topics related to marketing personalization and some technologies needed to accomplish one-to-one marketing. Besides, it focuses on general e-commerce trends and practices.
MarketingProfs focuses on different types of digital marketing topics. It uses infographics and unique research for the easy understanding of visitors. However, you will need a registration to access some contents of this blog. The registration will not take more than a couple of minutes. In return, you can access all the latest trends of digital marketing.
Social media is not easy to manage. In fact, you cannot ensure the success of your blog without having a strong presence on social media. Social Media Examiner can resolve all your doubts about social media. It provides the finding of studies, detailed tutorials, and tips to make you familiar with social media marketing strategy.
If you love data and analytics, then Optimizely is worth considering. It covers many effective testing ideas and latest trends that you can utilize for your blog. In addition, all these actionable tips and case studies are simple and easy to follow. You will be inspired to think differently for the success of your blog.
Search engine optimization is essential for the success of a website. If you are looking for some tips to make your site search engine friendly, you should follow Search Engine Land. It covers the latest trends of SEO in a straightforward and simple manner. This blog is more popular since it covers all the aspects of the SEO with actionable steps. By following Search Engine Land, you can refine your SEO techniques. It does not matter you are a novice or an experienced digital marketer, this blog has a lot for you.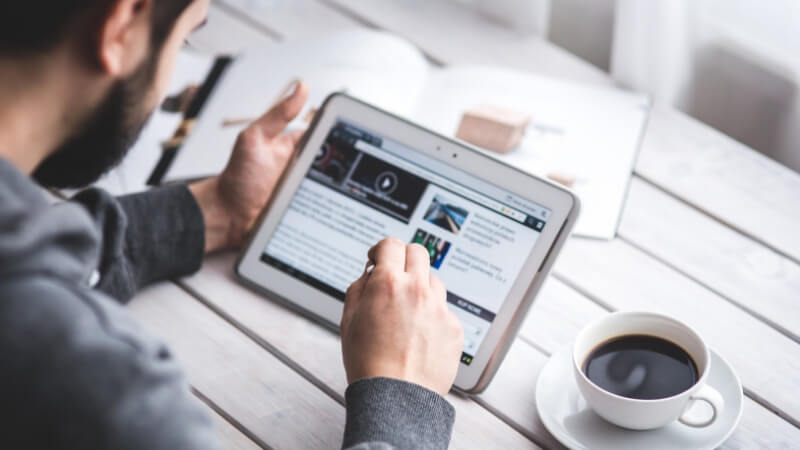 Conclusion
These are the best digital marketing blogs in the current condition. All these blogs are different and unique since they cover different aspects of digital marketing. You can follow these blogs to boost your marketing skill and to understand the key requirements of digital marketing such as content marketing, social media marketing, search engine optimization, inbound marketing, and analytical testing.

Hi, I'm Anthony Tran! Welcome to my site. I live in Arizona and am obsessed with all things related to building an Online Business and working from home. Learn about my journey here.