What Color Is Pewter? What Colors Make Pewter
Are you curious what color is pewter and ultimately what colors make pewter? Stick around as we share some details about this wonderful color.
Metallic colors are coming back with a vengeance and this time they are here to stay. Apart from gold, rose gold, and silver, another color that's been making waves for the past couple of years is pewter.
Whether you are planning to make a new dress for an important event, recreating the glint of light or even mimicking the smooth jewelry finish that pewter offers, learning this hue's humble roots certainly comes in handy.
Before we go any further, you might be wondering, "what in the world is the color pewter?" If you're familiar with it, what comes to mind may be a solid brick of metal similar to silver. However, this color moves beyond that.
For many individuals, pewter remains a mysterious color that seems out of this world. Ready to find out what it is?
Keep on reading…
What Colors Make Pewter?
Intrigued by this hue? Learning how to mix this color makes a world of difference. From applying it to paintings and using it in fashion and jewelry, knowing how to make pewter is no doubt essential.
Right off the bat, you should know that pewter has different variations. Depending on the amounts of color added into the mix, pewter can take on a bluer hue or a greener tinge.
To make pewter, a number of hues need to be added into the mix. These include your neutral colors such as black and white. Other metallic colors that are required to make the combination include antimony, bismuth, copper, and silver. It may also include umber.
To make pewter, combine black and white, carefully adding more white tones to achieve a lovely medium gray tone. Then, add in umber and ultramarine blue. We imagine any bright blue hue would work just as well. The blue will lend its signature cool tone that will complement the mixture, and at the same time, the raw umber will neutralize the gray you have mixed.
Once everything has been incorporated, be sure to add some metallic silver to add the sheen pewter is known for. However, temper the amount you intend to add since pewter's glossiness, or reflective quality if you will, is relatively low compared to that of silver.
What Color Is Pewter
Now that you know how to make pewter, it's high time that you know what it really is.
To answer your question…
The color pewter is a cross between gray and silver.
Compared to other metals, this type of color tends to appear duller or muted. Its tones range from silvery gray to a combination of blue and silver or blue and green.
However, those that are tinged with bluish tones are held at a lower standard of value.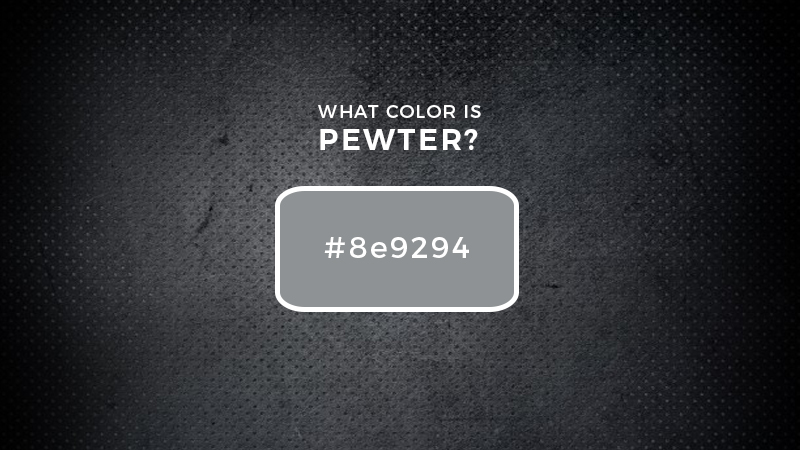 When you think about this hue, what comes to mind may be the kitchen and dining utensils you have in your home, passed down from older generations.
If you are a Harry Potter enthusiast, you'll know that a pewter cauldron was actually part of Harry's list as a first-year student at Hogwarts.
In more modern times, pewter may be used for home furnishing accents such as candlesticks, jugs, and other functional design pieces that look sleek and shiny in every way.
Psychology of Pewter
Versatile and conventional, pewter is oftentimes viewed as a reliable and perhaps boring color. It is also associated with stillness and consistency.
Because of this, industry experts believe that those who grow fond of this hue are individuals who show diligence and perseverance in their work, but at the same time, show humbleness in their very own existence with the world around them.
Pewter in Design
Due to its neutral-toned foundation, pewter is a favorite among painters, designers, and even interior designers alike. In the world of beauty and makeup, fashion-forward girls have used pewter for glam looks, particularly to bring attention to the eyes.
It also works as accents for the eyes and nails.
For home use and interior design, pewter is often used on walls and even as accents. This neutral-toned hue gives cool and calming vibes to just about any room. A dark pewter shade may also lend some depth and moodiness to the space.
To work within the same color scheme that's hugely popular these days, using grays, blues, teals, whites, and even gold will work. These would also pair beautifully with browns and nudes for the perfect complementary shades.
In fashion, instead of going for the traditional silver or even gold dresses for holidays and special occasions, you may want to opt for a light and airy pewter dress that moves with your body. Pair this with an equally stunning jewelry set that allows you to shine bright like a diamond.
The Bottom Line
Although pewter may appear mature for your taste, experimenting with it can help you create more visual texture and interest no matter what or where you use it.
Thank you for getting to know the color pewter with us today. We hope to see you in the future for more exciting learning.