Google Ads for Lawyers: The Ultimate Step-by-Step Guide
Google Ads, also known as Pay-per-click Advertising (PPC), is a way for businesses to show up at the top of Google in front of people looking for your services.
When done properly, using Google Ads for lawyers can be a very fast and scalable tool to grow your law firm month after month.
This article will serve as an educational piece as well as a step-by-step (literally!) instruction guide on running Google Ads for Lawyers.
If you want to walk before you run, make sure to take your time and read through the content.
Once you read the content you will be able to fly through running your own successful PPC ads for lawyers in a matter of minutes!
Why Google Ads are Important for Lawyers?
So, what is all this Google Ads talk and how can it be used for your law firm?
The best way to understand what Google Ads are is to visualize a pie.
Let's call it a Lawyer's Digital Pie (all the good names were taken..).
In this lawyer's digital pie, Google Ads counts as 25% of your digital marketing efforts as you can see below.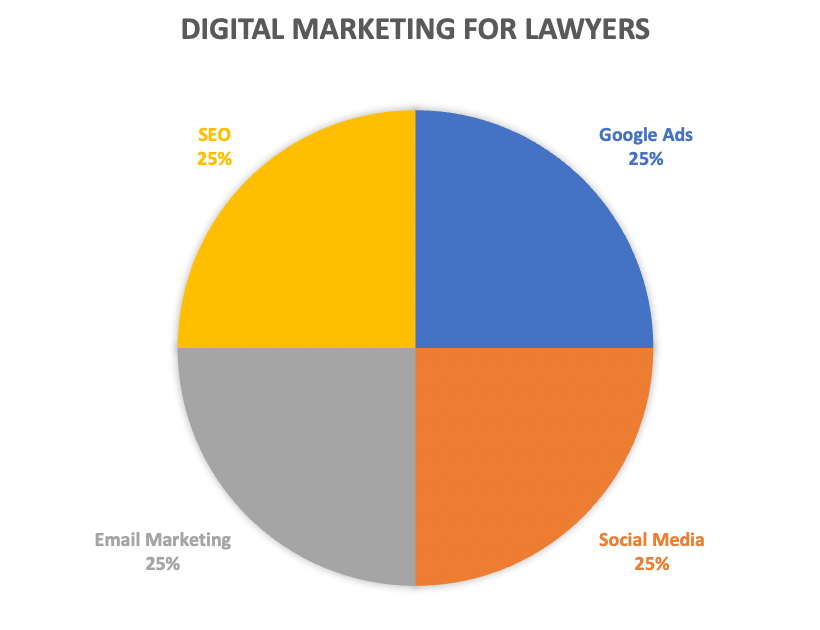 If a law firm has its ducks in a row, you will see four aspects of digital marketing in their strategy.
For the purpose of this guide we will focus on Google Ads for lawyers.
Google Ads Basics for Lawyers
As a lawyer, you understand the importance of marketing.
You need to get your name and your firm's name out there so that potential clients know who to turn to when they need legal assistance.
Google Ads can be a great way to reach those potential clients and get them to visit your website.
Google Ads are online ads that appear on Google search results pages. When someone searches for a term related to your law firm, your ad may appear next to the search results.
When someone clicks on your ad, they will be taken to your website.
Google Ads can be a great way to reach potential clients because:
People who see your ad are already interested in what you have to offer because they searched for a related term.
Google Ads are targeted, so you can choose to show your ad to people in specific locations or who speak certain languages.
You can narrow down what type of lawyer you are in your advertising: Personal Injury Lawyer, Estate Planning Lawyer, Bankruptcy Lawyer, Corporate Lawyer, Immigration Lawyer, Criminal Lawyer, etc.
You can set a budget for your Google Ads campaign, so you only spend what you want to spend.
PPC for Lawyers: One part of your Digital Foundation
The purpose of this article is to inform you of all the details of Google Advertising for Lawyers in an orderly step-by-step fashion.
With that said, we need to quickly go through the four pillars of your digital marketing game plan and what they do.
Google Ads (PPC)
Social Media Marketing
Email Marketing
Search Engine Optimization (SEO)
Social Media Marketing for Law Firms
Believe it or not, social media marketing for law firms can play a major role in brand awareness while generating a constant flow of leads.
When managing social media marketing for clients, most digital marketing agencies will aim to start with a foundation.
That foundation is the following:
Facebook
Twitter
Instagram
LinkedIn
This is the bare-minimum foundation for your social media presence.
Some lawyers can get even more creative by adding Snap Chat and Tik-Tok to their arsenal.
If you are a creative individual, both Snap Chat and Tik-Tok (especially Tik-Tok) can help you differentiate yourself from your competitors.
Check out this article to see how a lawyer is differentiating themselves from their direct competitors.
Whether you decide to have an in-house team manage your foundational social media or an agency, make sure you use something like Hootsuite to send out your message from one platform in order to save you time.
Social Media Marketing deserves much more attention than we are giving it here.
Let's proceed to foundation number two.
Email Marketing for Law Firms
Email marketing for law firms is a foundational digital marketing practice because it does one thing better than the others. It is a way to be in front of your present, past, and potential clients with one quick email
Email is a way to build trust without asking for anything in return…
Most of the time.
We recommend setting up an email campaign and segmenting emails according to the client type.
For example, you can set up three different email segments:
Current Clients – you can show your great results and let them know they are in great hands
Past Clients – let their past experience bring you, new clients. Emails can keep you top of mind!
Potential Clients – Build trust and value by showing your experience. You can be top of mind while they are determining what law firm they want to use. This could be the difference maker.
For email campaigns, we use and recommend Active Campaign and Constant Contact.
Search Engine Optimization for Law Firms
Search engine optimization (SEO) for law firms is something that must be done in order to have a local presence.
It's imperative that you show Google to show YOUR LAW FIRM before others.
The higher you rank in Google, the more opportunities you give yourself to get the client before they see your competitor's site!
SEO is a big topic that will be discussed in another article.
How To Run Google Ads for Lawyers
Running Google Ads for lawyers is a common 'practice' in the lawyer niche.
No pun intended.
Running Google Ads is the best way to show up immediately on Google above the organic search results.
So, what's the biggest difference between Google Ads and organic traffic?
Organic traffic is free traffic, Google Ads is paid traffic.
The reason it's important to run Google Ads for your practice is to land at the top spot on Google.
According to the Search Engine Journal, over 25% of clicks for a search are the first result on Google.
How do you get the first result on Google?
Run Google PPC Ads, of course! 😊
So before we give you a literal step-by-step guide to running your Google Ads, let's set you up with the basic concepts and also provide you with some real-life examples.
Law Firm Advertising Examples
The image below is an example of real law firms advertising on Google.
The search term is, "injury lawyer Los Angeles".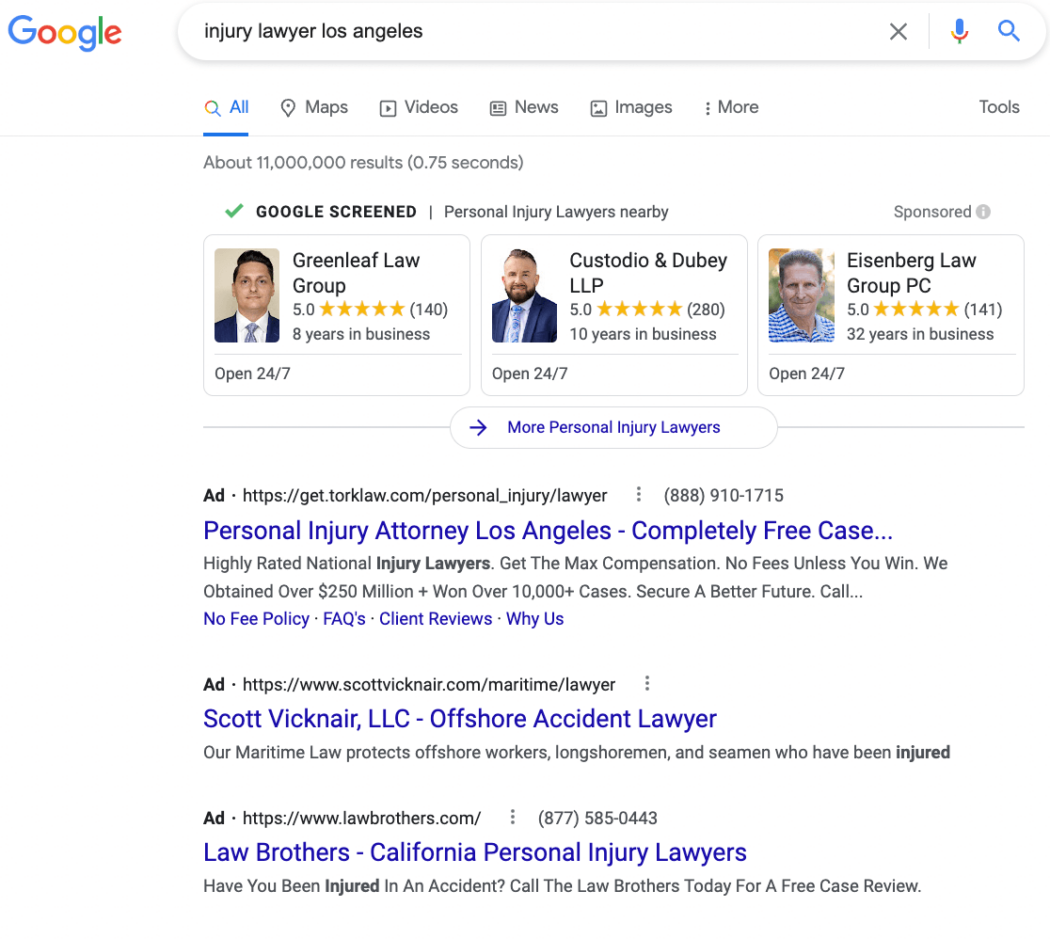 At the top of this image, we can see a section called, "Google Screened | Personal Injury Lawyers nearby".
Google Screened results are from paid ads by the law firm seen with direct intent of showing up in the Google Screened section.
If Google's first page was real estate, this would be the upper echelon.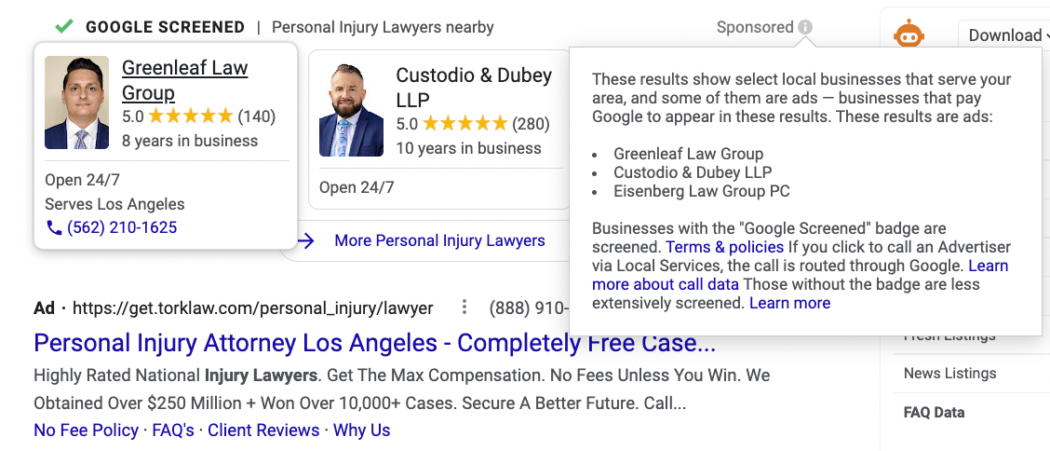 As you can see, you have the image representing the law firm as well as the Google reviews received from that firm.
If you are a law firm and want to be placed in this section, you will need to go through an audit by Google to they can ensure they are serving ads from reputable companies with all their ducks in a row.
If this is a service your firm desires, contact an experienced Google Ads agency.
Below those results, we see search Google Search Ads.
Google Search Ads have the bolded "Ad" to let the user know this is a paid ad.
What Types of Google Ads Can I Run for my Law Firm?
A common onboarding question we receive is, "what types of Google Ads can I run for my law firm"?
This is a fantastic question and one worth giving heavy consideration over.
There are five different types of Google Ad campaigns you can choose from:
Search – Text ads that you see in the Google search results
Display – Image ads that are on various websites
Video – Video ads you see on YouTube
Shopping – Product listings for e-commerce
App – Promoting an App for download
When deciding which type(s) of ads to run, you'll need to look at your specific business model.
Do you work mostly or strictly with local clients/customers?
Are you selling a product to people across the country or world?
Perhaps you are selling information products.
Regardless of what business model you have, you'll need to determine which ad works for you.
The example shown previously with the Google search ad was exactly that – a Google Search Campaign.
If you practice law locally or have a specific niche you serve, then Google Search Campaigns are a great place for you to start!
Do Google Ads Work for Lawyers?
Now that you know a little about Google Ads, you're probably wondering if Google Ads works for lawyers.
Well, yes.
Yes, they do!
The quickest way to get leads flowing into your practice is by turning on this faucet of never-ending leads.
Ask yourself this question –
The last time you wanted to find a landscaper, did you go knocking on the doors of your neighbors to ask?
Did they give you the address to landscapers so you can door knock them?
No.
You went straight to Google to find a landscaper.
What else swayed your decision?
Catchy ads on Google pertaining to your specific search.
Google ads are a great resource for any and all law firms!
How Much Do Law Firms Spend on Google Ads?
Now that you know Google ads work, you are probably wondering how much law firms spend on Google ads.
Well, the answer is that it depends.
It depends on your specific niche and the keywords you are paying for.
Head on over to Google Keyword Planner and you can see how much your cost-per-click (CPC) will be for your keywords.
Once you see how much each CPC will be, you can set yourself a budget that suits you.
Let's check out an example.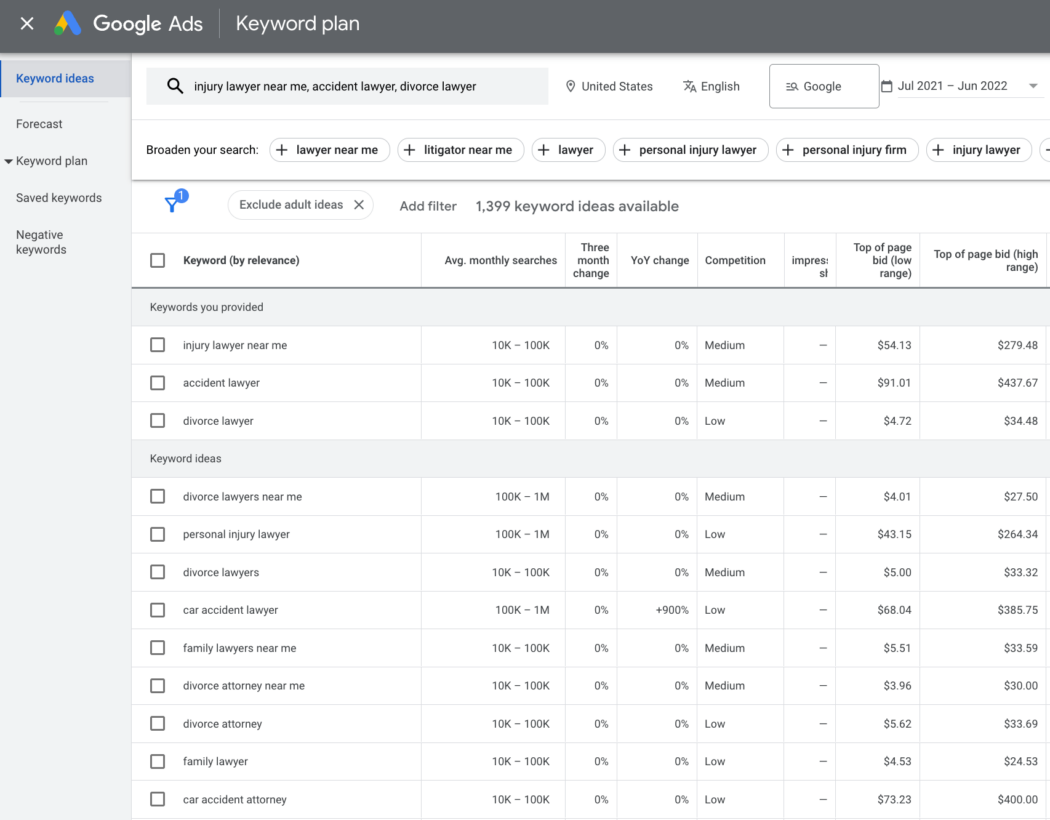 The original keywords we searched were:
injury lawyer near me
accident lawyer
divorce lawyer
Google displayed variations of those keywords so we can find multiple keywords to target.
Now let's look at some of the CPCs for popular search terms according to Google.
injury lawyer near me – $54 – $280 CPC
accident lawyer – $91 – $437 CPC
divorce lawyer – $4 – $34 CPC
personal injury lawyer – $43 – $264 CPC
There are many factors that go into CPC such as keyword competition, bidding strategy, and a few other factors.
For a complete guide to Google CPC, click here.
Should I Hire a Full-Time PPC Specialist or Agency to Run My Ads?
When determining who should run your Google Ads you should start with asking yourself if you want to pay for a full-time employee with all their benefits or just outsource the work to an agency with in-house experts.
If you have a very large law firm and are determined to have your own digital marketing department then hiring a full-time PPC specialist would be the best route for you.
If you prefer outsourcing the work and putting the management on someone else's shoulders then an agency is for you.
A well-run agency will have either the Google Ads expert or account representative be your go-to with all things related to your PPC campaign.
Ultimately, the decision is whatever you believe fits you and you are most comfortable with.
Let's Walk You Step-by-Step on How to Run Your First Google Ads for Your Law Firm
In order to create a step-by-step guide, let's first decide what your end goal is for your first Ad.
Let's say you are a lawyer that specializes in divorces.
Your goal may be to get in front of users that are looking into their options for divorce.
Define Your Goal
Now that we know you want to get more leads for users looking at getting a divorce, let's finalize our strategy.
Your strategy will most likely be to generate more phone calls to your law firm.
How do you generate more phone calls to your firm?
Google Search Campaigns!
Create your Brand New Google Ads Account
Step 1. Open your first Google Ads account by clicking here.
Step 1a. Click Start Now.
Step 1b. Click on, "Create New Google Ads Account"
Step 1c. Here's where we reach a fork in the road. I'm sure you wouldn't notice if it's your first time seeing this page but you have two directions you can go.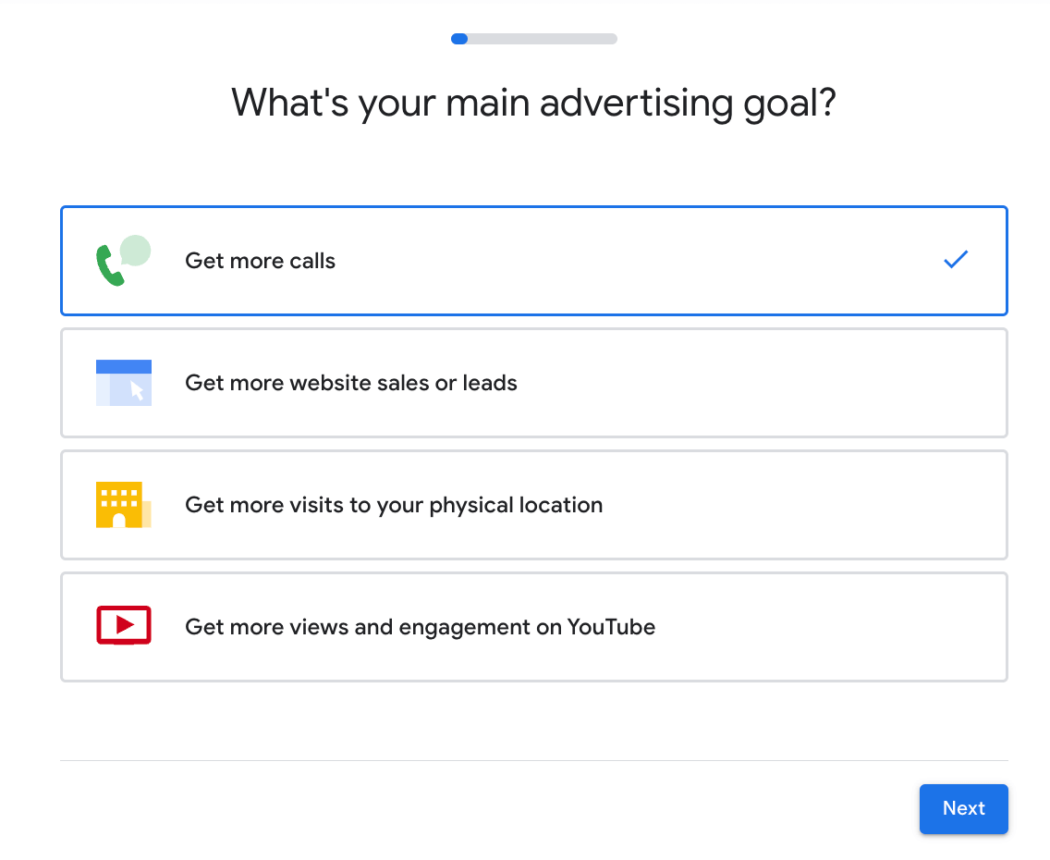 You can continue with this set-up which Google calls, Smart Mode.
Or…
You can click on the blue text at the bottom called, Switch to Expert Mode.
Since this is your first time using Google Ads, you can select the Smart Mode.
Smart Mode makes the ad creation process user-friendly and easier to use. If you want to get more advanced, you can certainly do that. However, using Smart Mode should enable you to meet your goals for your law firm.
In Smart Mode, we get the option to select from four advertising goals:
Get more calls
Get more website sales and sign-ups
Get more visits to your physical location
Get more brand awareness with videos
Your goal is to get more people that are looking at their options for divorce.
These types of conversations are probably not great through email.
Your best option is to get more phone calls or have website visits where users can see that you are a respected lawyer in your niche.
Step 1d. Click, Get more calls then Next.
Connect Your Google Business Account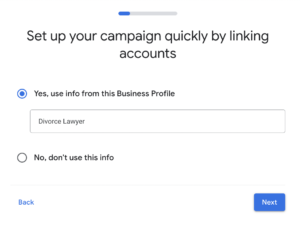 On this page, you'll need to connect your Google Business profile.
If you don't have a Google Business profile, click here to set it up before continuing!
Once complete, click Next.
Tell People Where to Go After They Click Your Ad
Now you will have two options and you will need to make the best decision.
Your first option is to have the user go straight to your Google Business profile.
The second option is to have the user go to your website.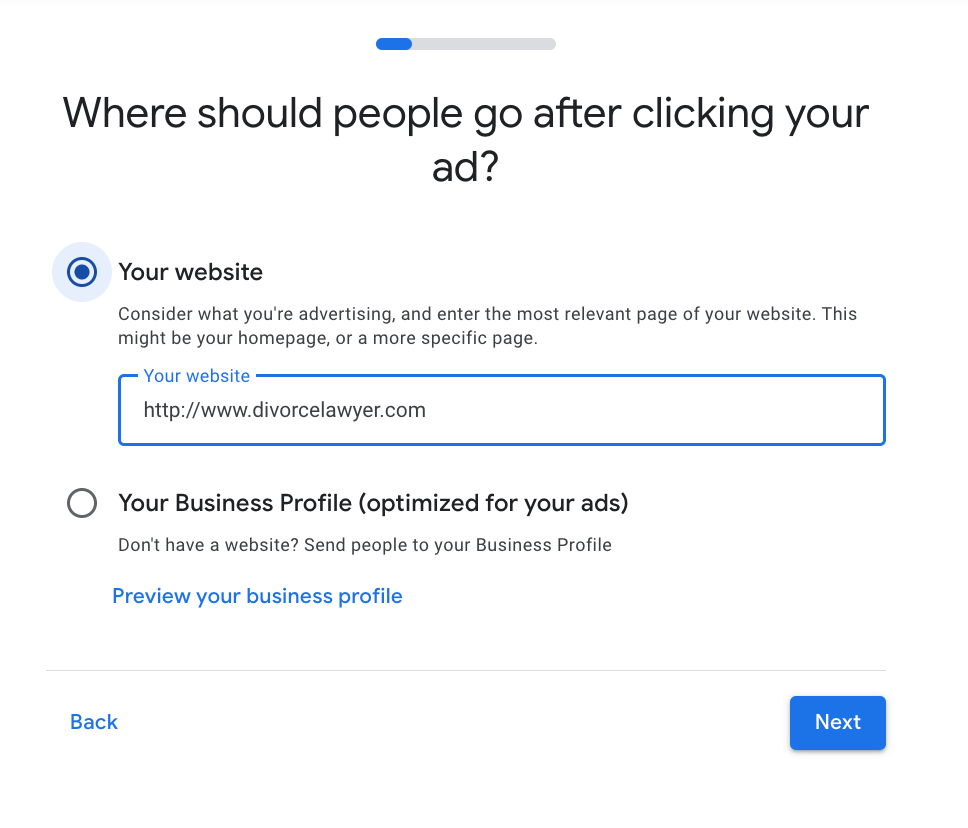 If you have a lot of positive reviews then you should highly consider sending users to your Google Business profile.
If your Google profile lacks luster then send users to your website.
Once you click Next you'll be sent to a preview page for your Google Business Ad.
If you approve, click. Next.
Now It's Time to Write Your Ad
Now the fun begins!
It's time to brag a little while creating your new ad while showing the user why they should work with you.
Below is a pre-filled example that should give you a good idea of what you can write.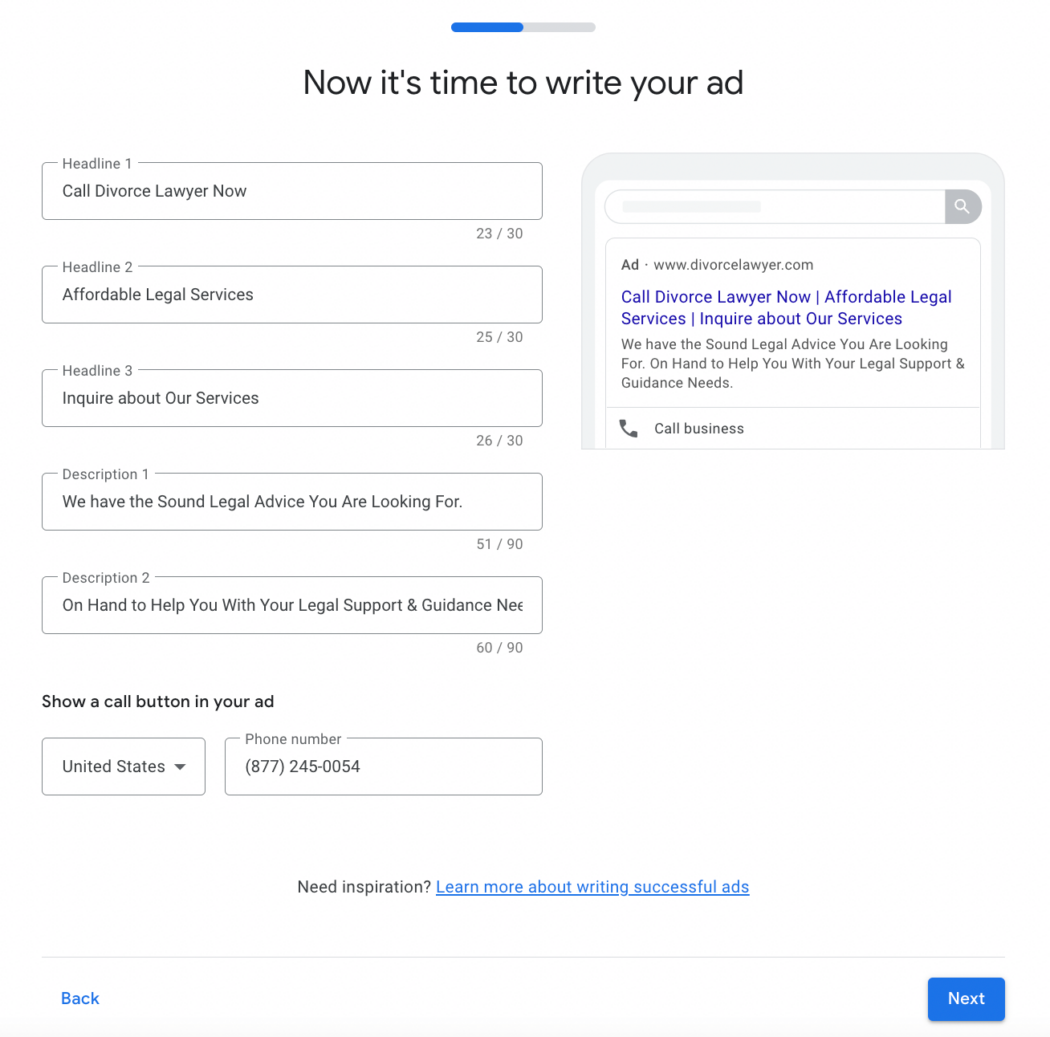 This Ad is broken down into three sections.
You have the following sections to work with along with the amount of text you can use:
Headline 1 – 30 letters maximum
Headline 2 – 30 letters maximum
Headline 3 – 30 letters maximum
Description 1 – 90 letters maximum
Description 2 – 90 letters maximum
Call Button (if you choose)
Tips for Writing PPC Ads for Lawyers
Now that you know exactly what it looks like when you write your ad, it's time to fill in the spaces.
To make this easier, we recommend filling out a customer avatar sheet so you can write a clear and concise ad that only your specific audience can relate to.
If you already have a good grasp, then you can skip this step.
Lawyer Ads Tip #1
Write the ad so it can only resonate with who you are targeting.
For example, using the divorce attorney for this illustration.
Write down some of the common things that only your clients experience.
Is there something that you hear often?
Write this in your ads to stand out.
People want to work with those to that they feel they can relate.
Lawyer Ads Tip #2
Point out past accomplishments, recognitions, and compliments you receive.
Have you been awarded the best divorce lawyer in your city?
Is there any recognitions or awards given to you for your services?
Write all of these in your ads because it will gain your potential client's respect.
There's nothing more powerful than other people bragging for you!
Lawyer Ads Tip #3
Make your ads locally relevant.
Do you live in a major city or region and only serve these clients?
Make sure to call it out!
The more detailed and personal you can make your ad feel, the better it will perform.
That's as close to a promise as we can give you. 😊
Once you are done with your ad content, click Next.
Add Keywords for your PPC Campaign
Now it's time to dial in your audience by identifying keywords they are using to find your services.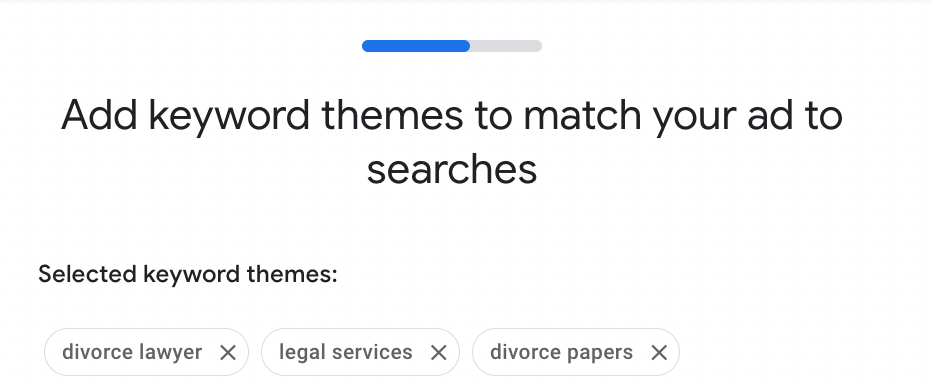 Google will preview some ideas with a keyword theme.
Our theme is, divorce lawyer.
You can select these keywords as well as suggested keywords below this!
Google really makes this very easy for someone with zero experience to run ads for their business.
Don't forget, you can also use the Google Keyword Planner tool to generate loads of dialed-in keywords.
Once you have selected your keywords, select Next.
Where will you run your Google PPC Ads for your Law Firm?
Ready for a super simple way to pinpoint exactly where to run your Google Ads campaign?
Google gives you two ways to select where you want your ads to show up.
Your first option below is by using a radius around a specific location.
The location you choose is up to you. It can be your office or a city.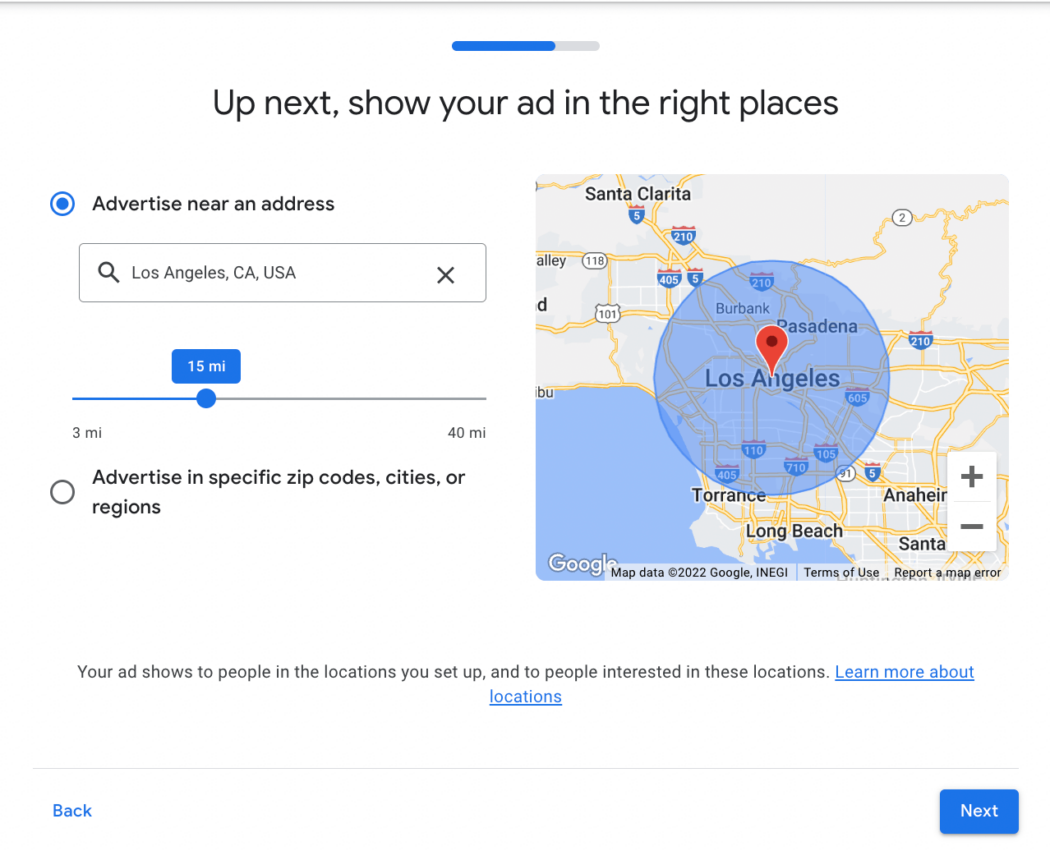 Google starts you with a 15-mile radius.
You can select anywhere between 3 miles to a 40-mile radius. You know your market better than anyone so selects what is best for you.
With your second option, you can advertise in a specific zip code, city, or region.
Just like before, you know your market better than anyone so you can really hone in and only advertise in cities that you believe are the most profitable for you.
Below is an example of what it looks like to select specific cities.
Once you have your targeted cities selected, click Next.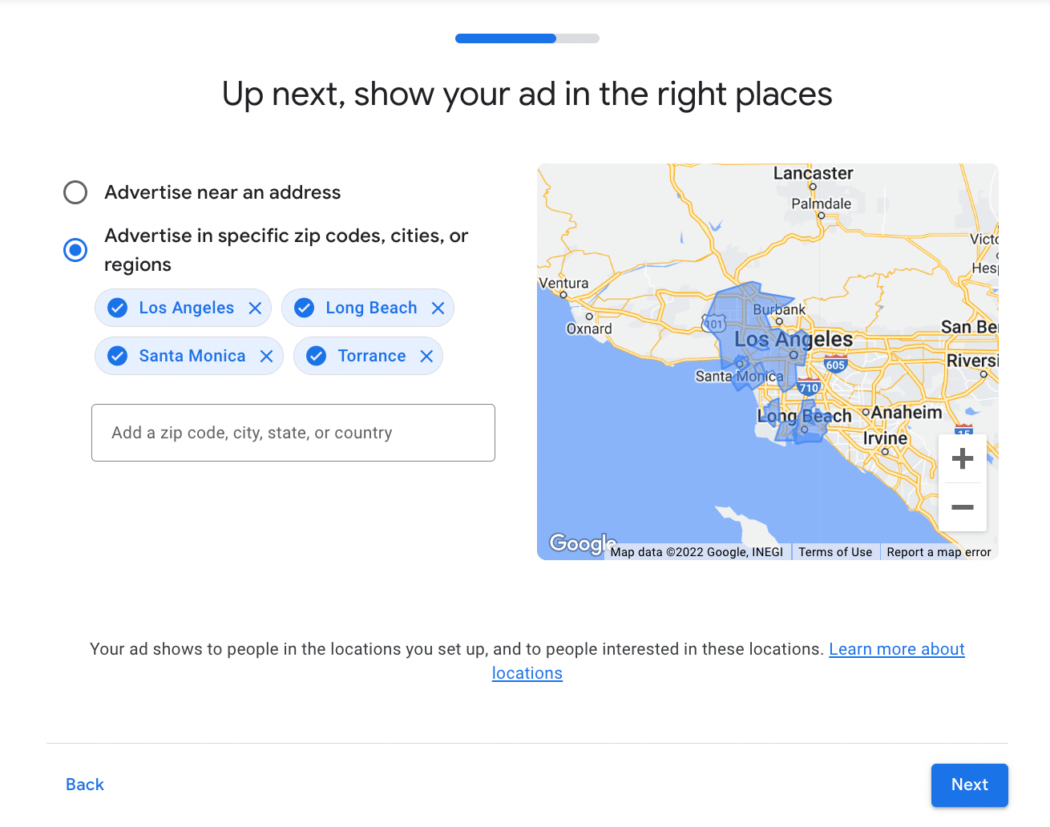 Select Your Campaign Budget
Now it's time to decide on how much you want to spend on your daily, weekly, or monthly budget.
Please be aware that being in the lawyer niche is one of the more expensive niches to advertise on Google.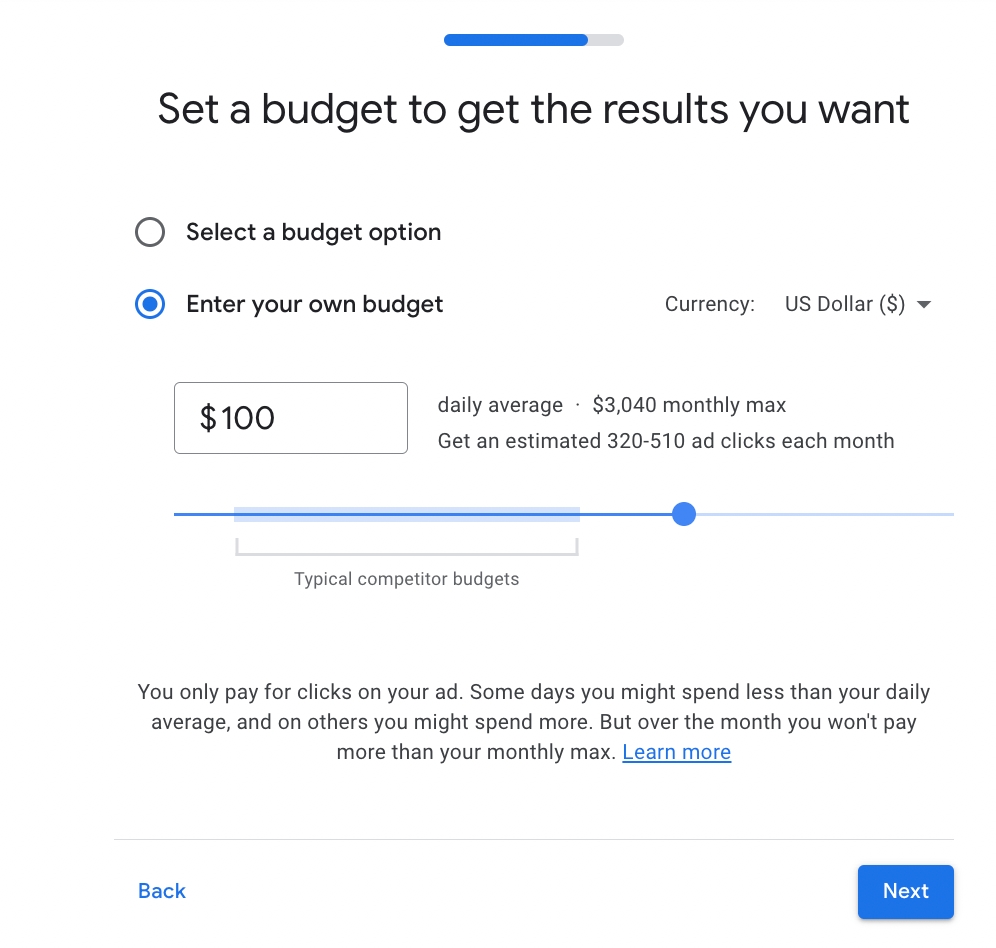 Clearly, we witnessed in our keyword research that the CPC was as low as $30 and as high as $400.
These are extremely high numbers!
The more broad your keyword is; i.e. "divorce lawyer", the more competition and the more it will cost.
What a good marketing agency will do is have a higher budget to start for the first 2-3 weeks, then lower it once the data has poured in.
So why start high and decrease your budget?
One word…
DATA.
Once your campaign has run for a few weeks you can see your CPC per keyword.
You will find some keywords are performing well while others are not.
More importantly, you will find negative keywords.
According to Google, a negative keyword is: "A type of keyword that prevents your ad from being triggered by a certain word or phrase. Your ads aren't shown to anyone who is searching for that phrase. This is also known as a negative match."
When you remove keywords from your campaign that doesn't fit your offer, you eliminate wasted ad spending.
Sometimes, having a very experienced Google Ads specialist can really help you dial in your ads at this point to produce the most profitable clicks for you.
Once you have your budget selected, click Next.
Review your Google Ads Campaign
Now you can review your campaign and make sure everything is up to your standards.
Make sure to check for spelling errors!
We want to make sure you are looking as perfect as possible during your first and most likely only impression.
Is everything looking tidy in your Ad?
Click, Next.
Confirm Payment Info
Here's something really important.
You'll want to confirm your payment info AND make sure you have your free $500 in Ad Credits!
Usually, Google offers to give you $500 in Ad Credits once you spend $500.
If it's not on there, contact Google!
Congratulations!
Congratulations, you have just completed your first PPC campaign for your law firm!
Enjoy your newfound Google Ads knowledge!
This article was written by Dennis Kubitz.

Hi, I'm Anthony Tran! Welcome to my site. I live in Arizona and am obsessed with all things related to building an Online Business and working from home. Learn about my journey here.