CUSTOM WEBSITE DESIGN PROJECT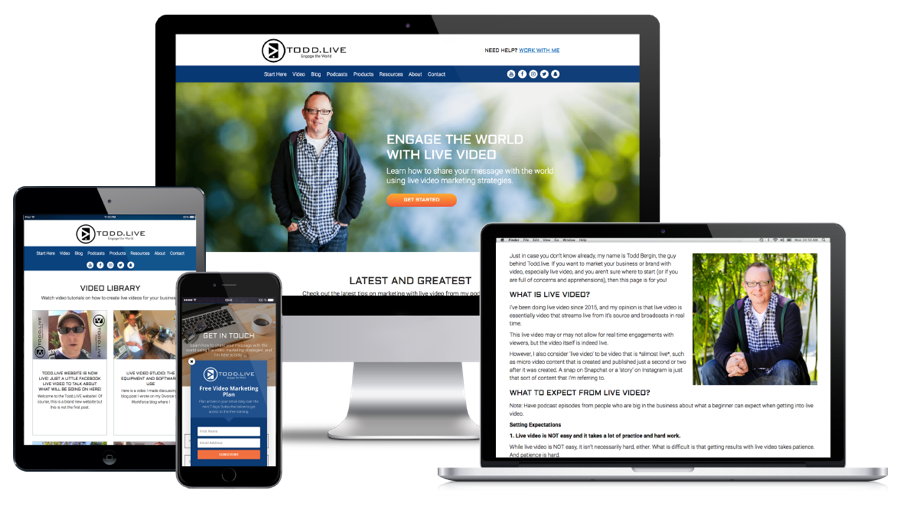 PROJECT OVERVIEW

"Todd Bergin" is on a mission to help entrepreneurs and online creators get started engaging the world through the use of the internet, primarily live video.  When Todd approached Marketing Access Pass to create a custom branded website, he needed a brand new website built from the ground-up.  Todd already had a loyal social media fan following on Facebook, Instagram, Snapchat etc.  Unfortunately, he did not have a "home base" to drive traffic to and generate leads for his new live video expertise.  He also needed a website that could showcase his coaching services, and his new upcoming podcast shows."
OUR SOLUTION
We built the new website utilizing WordPress and mobile responsive technology.  Todd had dozens of videos published on social media and podcasts on his Divorce the Workforce website.  We created a new website that would allow him to display his blog, video, and podcast content. We also created sections for him to share his online shop where he can sell coaching services and online products. The new website now showcases Todd's personal and professional background and has helped him generate more leads for his business.
CLIENT TESTIMONIAL
"I've averaged about one website build per year for the last ten years. I've worked with a great many people on website design, and I have to say that when you choose to work with Anthony, you are choosing to work with one of the best. Anthony and his team are very talented and professional when it comes to working with their clients to build a sophisticated website. While his pricing is more than fair, what I like the most is that the communication is two-way and operates at a professional pace - and what I mean by that is, when I send an email to Anthony, I always have a thorough response within 10 or 12 hours - usually much sooner, but my emails tend to go out in the evening. Anthony and his team have built two websites for me and will build more in the future as needed, for sure." ~ Todd Bergin, Founder of Todd.live
LET'S MAKE YOUR GOALS A REALITY! CONNECT WITH US TODAY...